Overview
Your settings help you configure your default workspace. Once you have the perfect setup, you can always come back to adjust the details. These pro settings help make Trace the best app for architecture.
Does your interface look different? Make sure you have the latest update for Trace here.
---
How to Adjust Your Settings
Step 1. Set Up Your Apple Pencil
While any stylus will give you basic functionality with Trace, Apple Pencil gives you the most advanced stylus experience.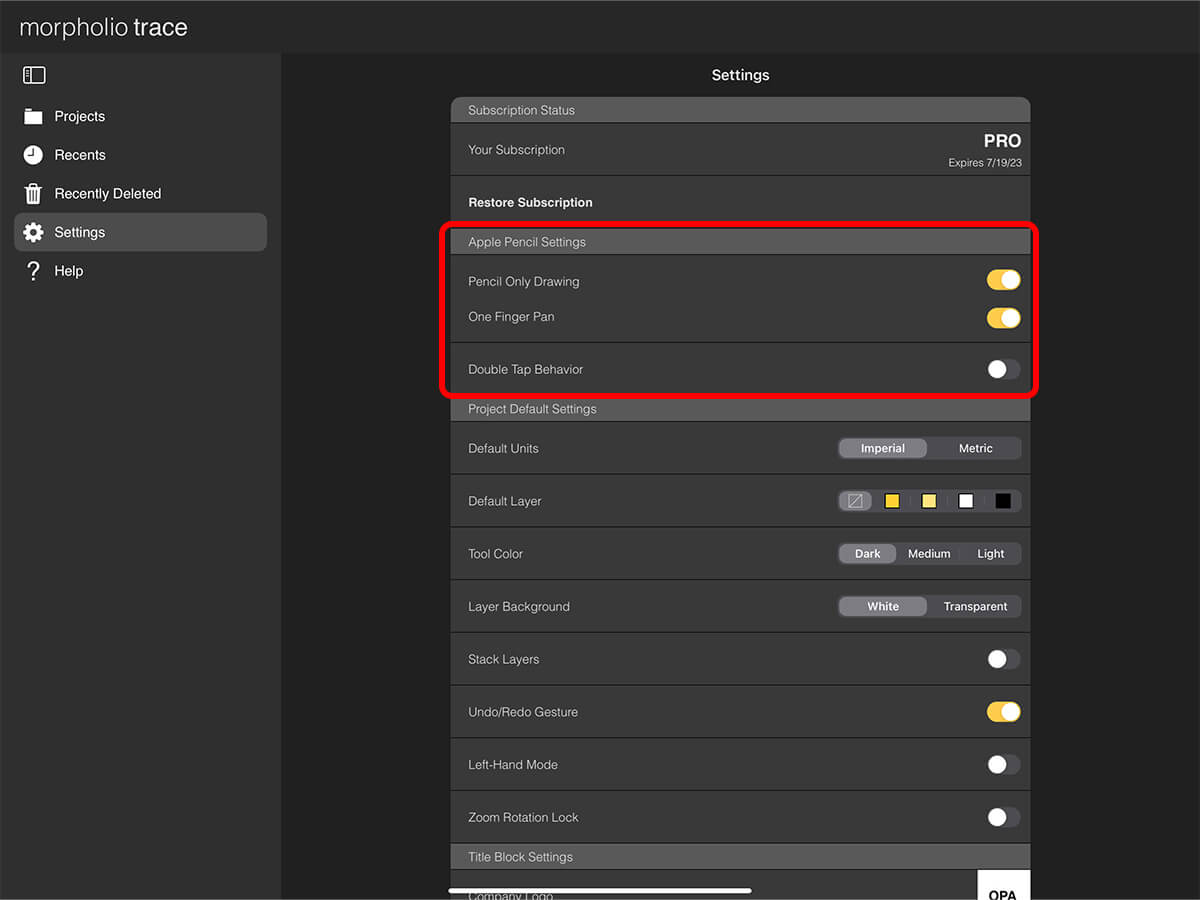 Pencil Only Drawing
Turn this on to activate palm rejection and avoid making marks with your palm or finger.
One Finger Pan
Turn this on to pan around your drawing with one finger.
Custom Double Tap Behavior
If you have double-tap turned on for your Apple Pencil in the Settings App, you can also activate special tricks with double-tap in Trace by toggling "Custom Double Tap Behavior" on. This includes rotating your drafting tools and scrolling through your stencils.


Step 2. Define Your Default Project Settings
Get your default drawing space set up to work comfortably.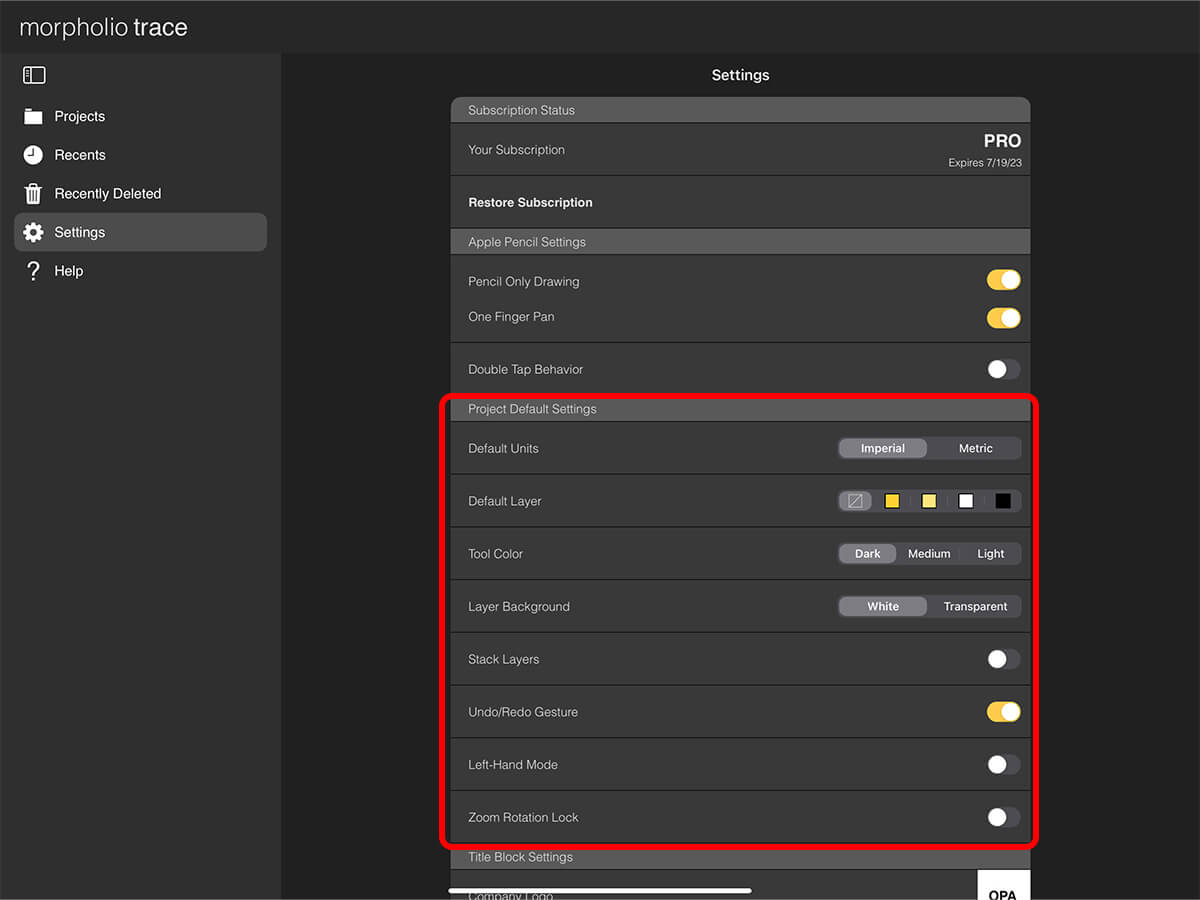 Defaults
You can set your default units, layer color, tool color, and layer toolbar background color.
Stack Layers
If you'd like all of your new layers to be the exact size of your base layer, turn "Stack Layers" on. If you keep this off, your new layers will be the size of your current view.
Undo/Redo Gesture
Toggle this on to use a two-finger tap to undo and a three-finger tap to redo. If you toggle this off, you can only use the undo and redo icons in the pen toolbar to undo and redo your actions.
Left-Hand Mode
Left-handed users can toggle this on to switch the positions of your layer toolbar and your pen toolbar.
Zoom Rotation Lock
Toggle this on if you prefer to always keep your sheets upright without rotating as you zoom in and out.
Step 3. Set Your Title Block Defaults
Add in your company logo and name as you'd like to appear in your title block when exporting your drawings.
Pro Tip
Your Morpholio account email is the email address listed in your "Account Settings" area.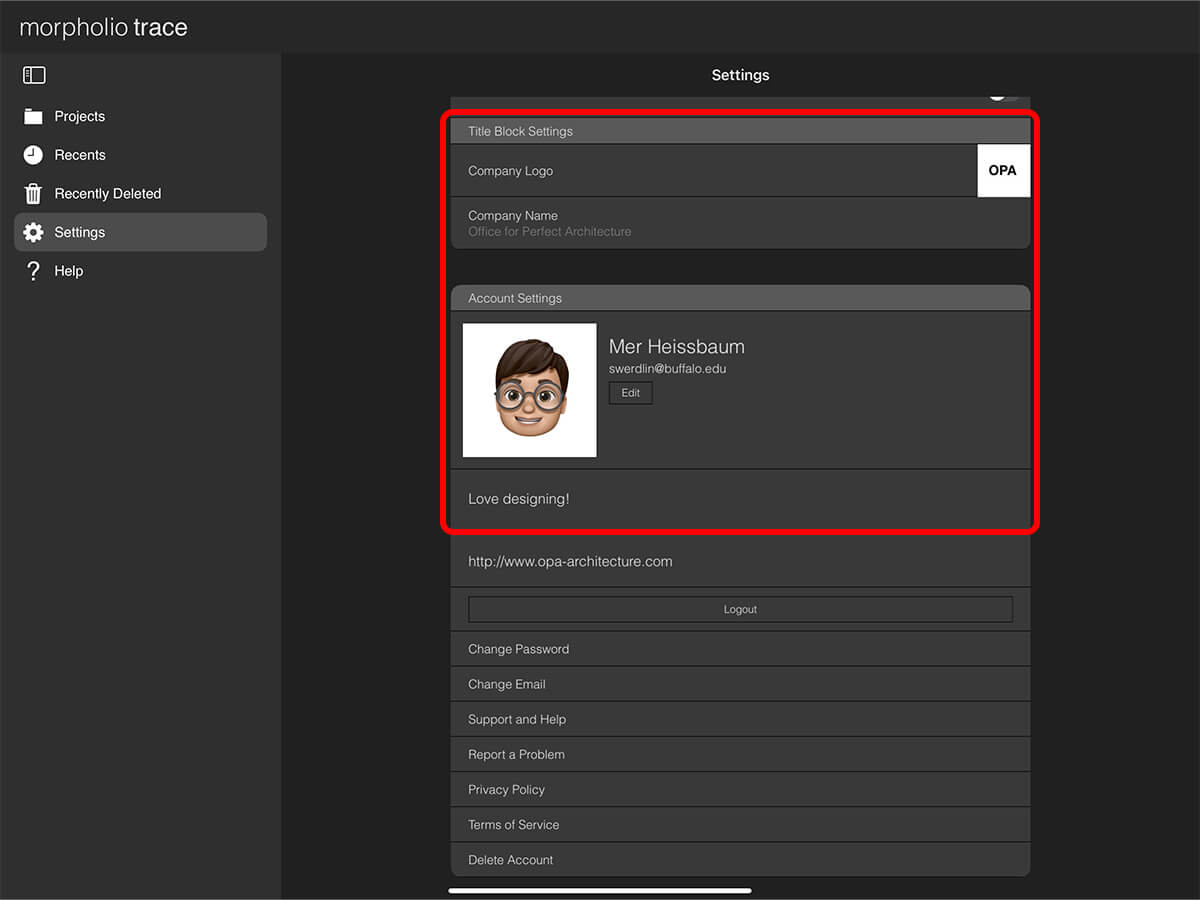 Step 4. Update Morpholio Account Profile
Use this section to edit your Morpholio account picture, personal description, and website. If you need to switch Morpholio accounts, just tap "Log Out". You can also change your Morpholio account password or email here too.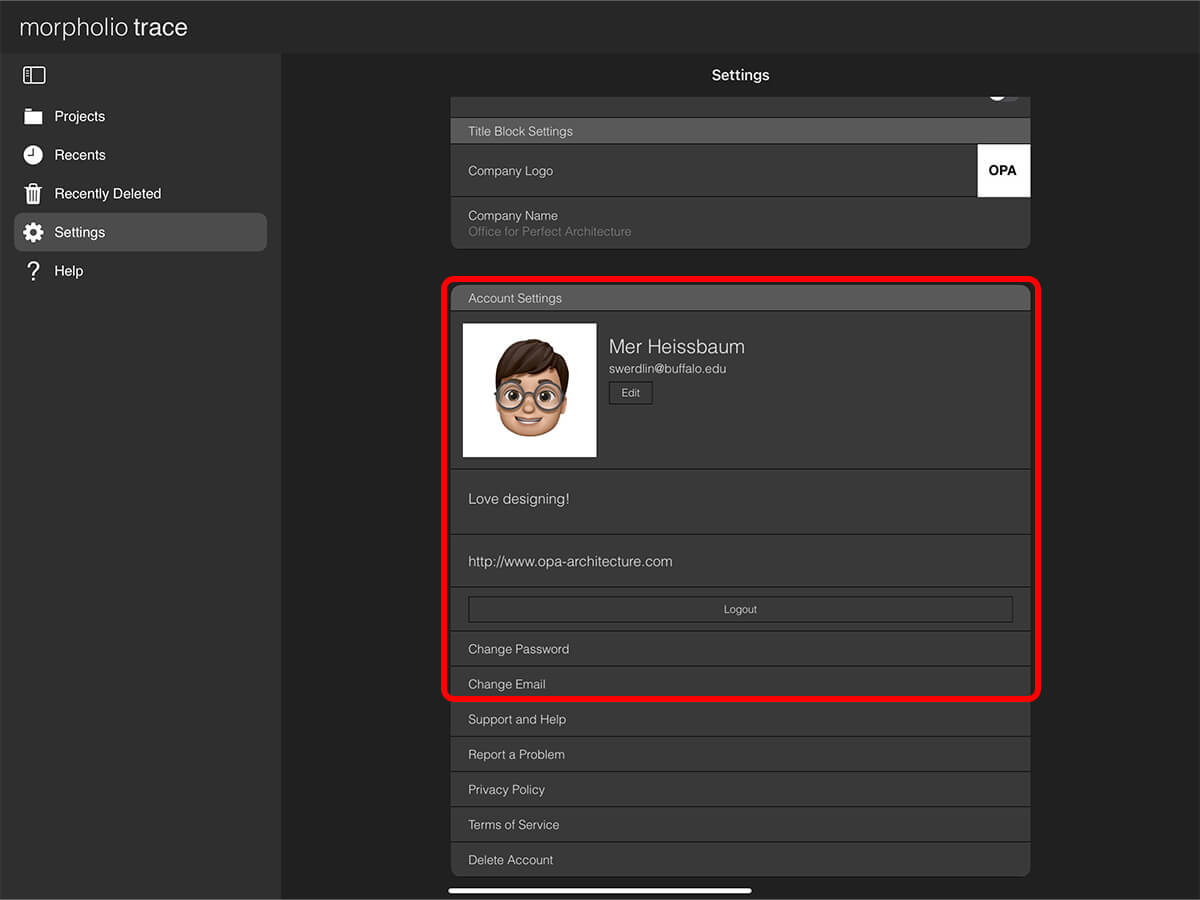 Step 5. Use the Help Resources
Tap "Support and Help" to check out all of the amazing videos, user guides, and resources to help you figure out any question you might have about Trace. Tap "Report a Problem" to get direct feedback from our support team within 48 hours.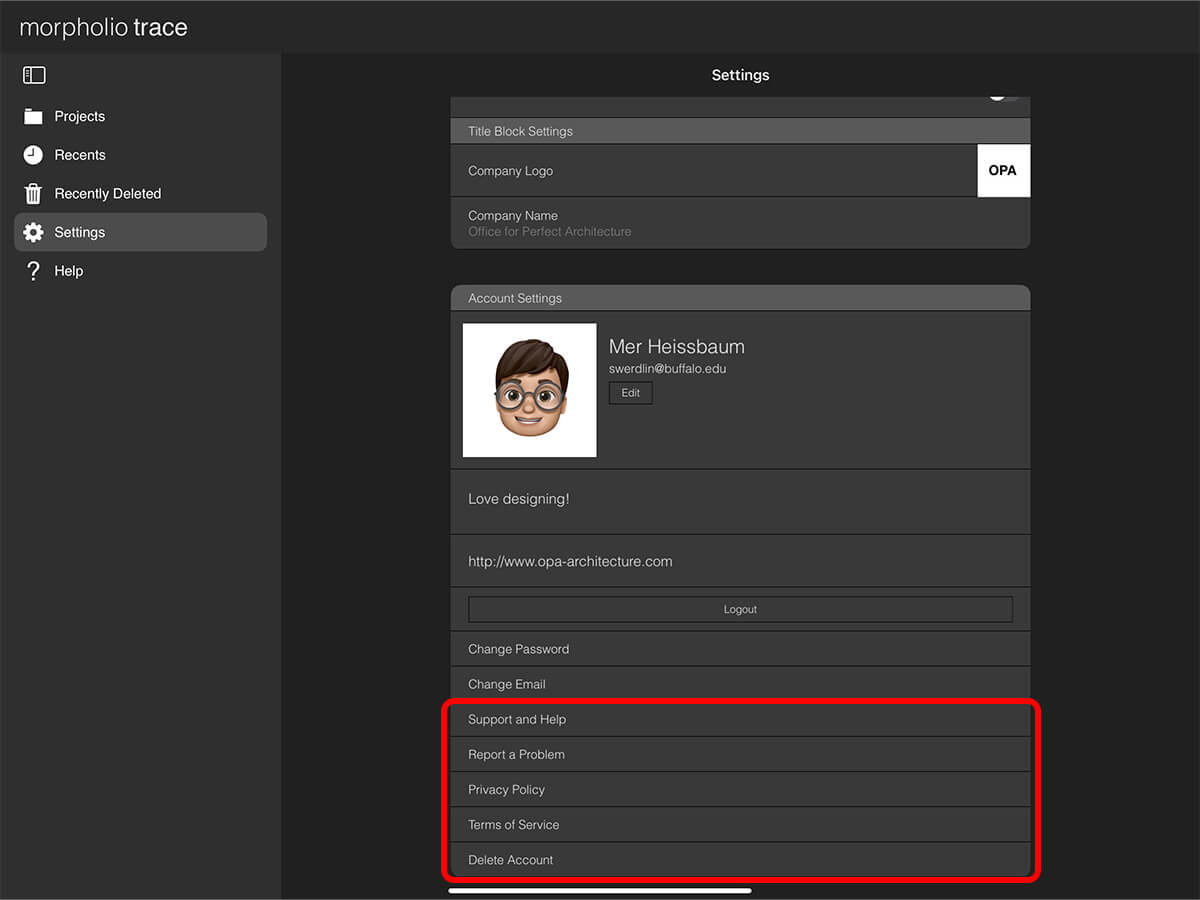 ---
How To Video
Enjoy this how to video highlighting how to navigate your settings.
---
Additional Resources
How to...Set Up Left-Hand Mode
---
Version: 5.3
About Morpholio Trace - Sketch Cad
Why Morpholio Trace for Architects, Landscape Architecture and Interior Designers?
Awarded Best Apps for architects, landscape architects, and interior designers, Trace is the dream sketch cad and architecture drawing software. Featured as both, the best app for iPad Pro and the best app for Apple Pencil, Trace combines the beauty and speed of sketching with the intelligence and precision of CAD. Whether you're drawing project concepts, sketching through schematic design and designing architectural details, or just drawing on-site visits through construction administration and making high-res PDF drawing set markups, Morpholio Trace is everything you need for your new favorite architect app, landscape design app, or interior design app all in one. Welcome to the new best drawing app for iPad Pro.
Morpholio Trace Ecosystem
Morpholio drawing apps are not only named as the best app for architects, best app for architecture, best app for interior design, best design app, best app for landscape architects, and best app for iPad Pro, but they also now work as a perfect complement to, and seamlessly with your favorite architectural software, architecture apps, cad software, cad app, and interior design software. This includes Autodesk AutoCad, TinkerCad, Revit, SketchUp, SketchUp Viewer, Rhino, Pinterest, Adobe Photoshop, Shapr3D, UMake, and many more. In addition, your Apple iPad Pro, iPhone, and Apple Pencil will never be more exciting to use as Morpholio's suite of drawing, design, and sketching apps become even more essential in your design process.