Overview
Imagine if you could have a 3D model inside your sketchbook. Then, imagine that it would automatically generate perspective lines for you. And now, imagine that you could fly between views to present your work. Would you believe it? Meet the new way to sketch over 3D models.
Architecture 3D model and drawings by Amin Zakaria.
---
How to Sketch on 3D Models
Step 1. Import Your 3D Model
Use any software (Autodesk AutoCad, TinkerCad, Revit, SketchUp for iPad, Rhino, Shapr3D, UMake, etc) and then export an OBJ, STL, DAE, 3DS, or USDZ. Then, tap the "+" button and select "3D Model" or drag and drop in your 3D model from Shapr3D or the Files app.
Learn more about importing your 3D model here >
Pro Tip
When you export your 3D model be sure that ONLY mesh objects are in your file (no curves, splines, NURBS surfaces, etc).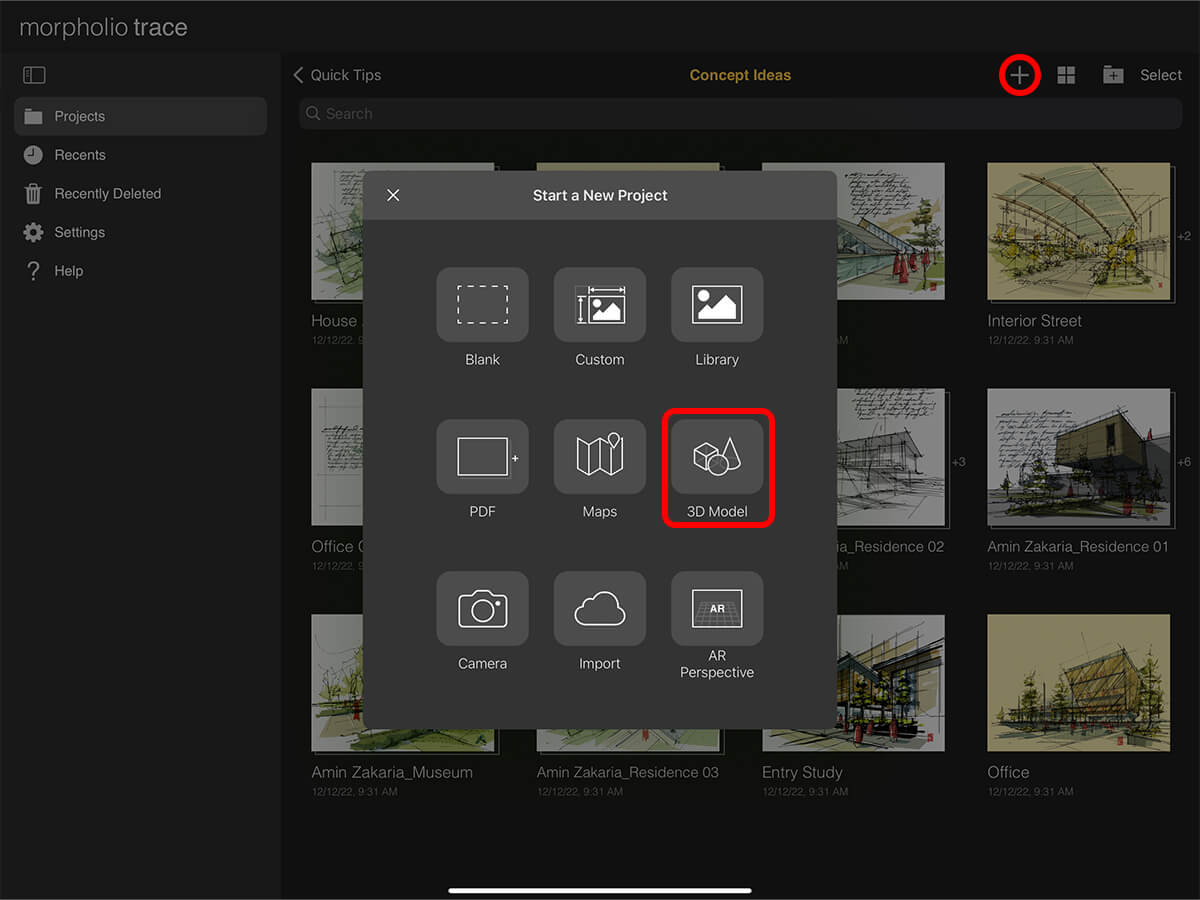 Step 2. Set Your View
Select your Camera Mode and tap with one finger to center your camera view. You can also drag one finger to orbit around the model, drag two fingers to pan across the view or pinch with two fingers to zoom in and out. When you get the view you want, tap the Green Check.
Learn more about setting your view here >
Step 3. Set Your Sun
Select Manual Mode for free movement or Location Mode to input exact coordinates. With Location Mode just input a location, date, and time to get precision shadows with "Shadow Maker". Or you can adjust the sun position freely by switching to Manual and using the dials to set the sun azimuth and elevation.
Learn more about setting your sun here >


Step 4. Draw on Auto-Generated Perspective Grids
You will notice that Trace sets up the perspective lines and vanishing points for you. Simply draw away. When finished tap the 3D Model button (cube) to get more views and previews.
More information on drawing perspectives here >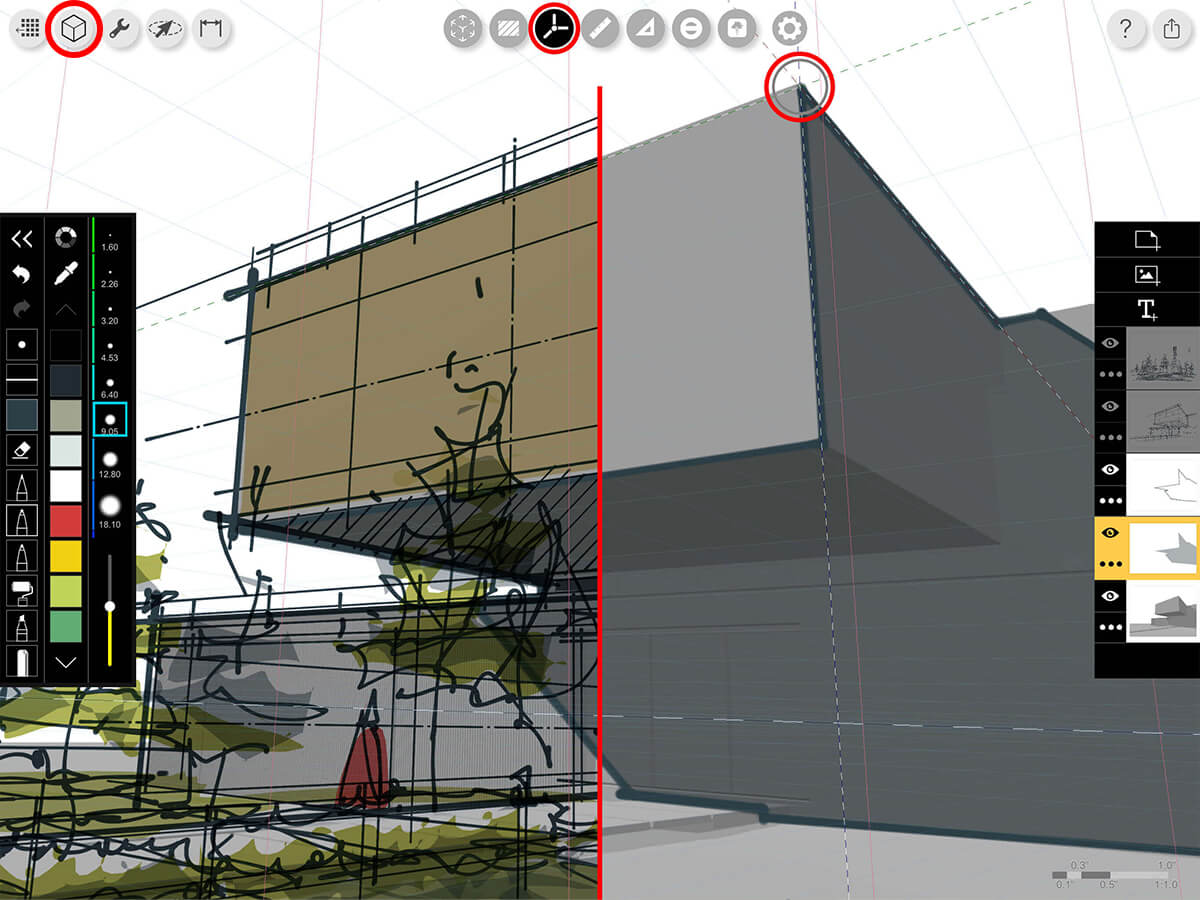 Step 5. Fly From Sketch to Sketch to Sketch
Ready for some fun? Simply tap any preview and fly to that view. Can you imagine a better way to present your work?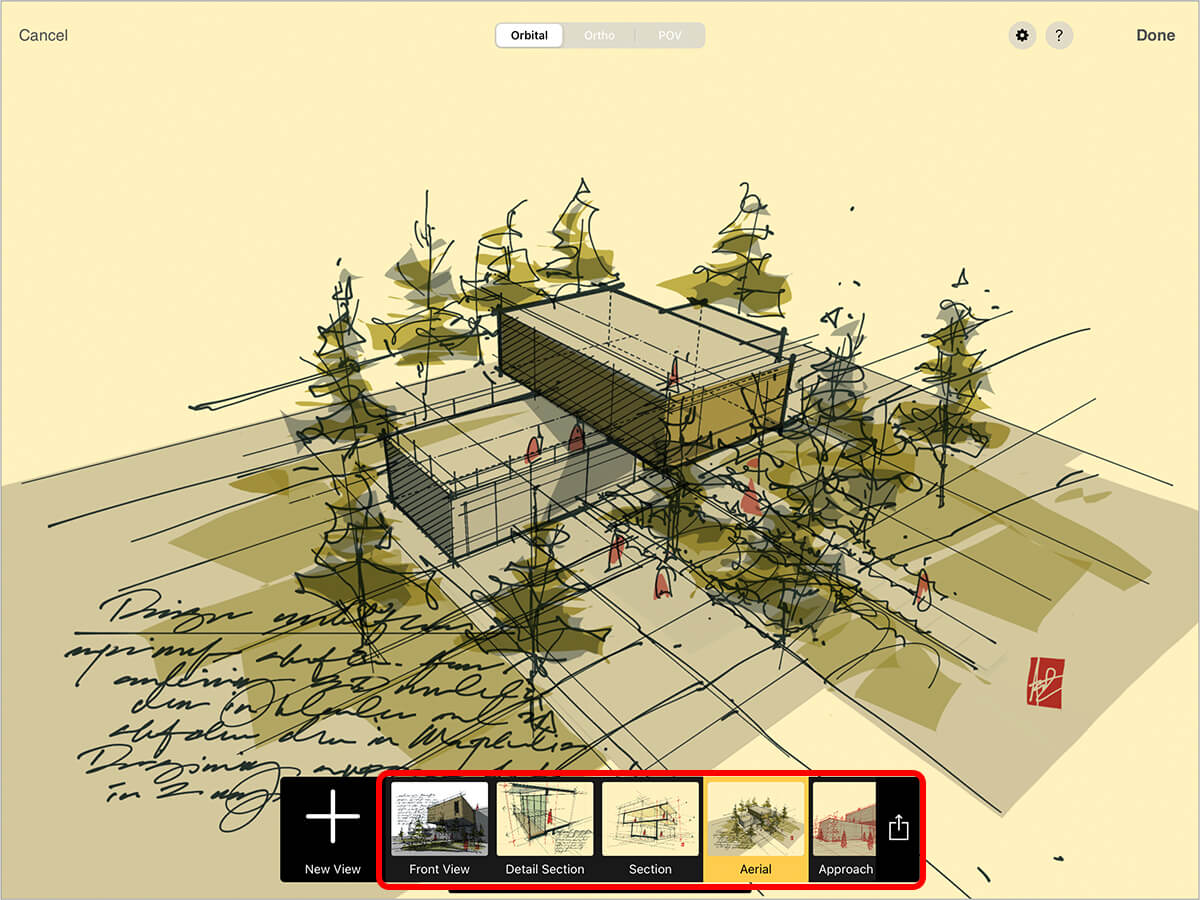 ---
How To Videos
Enjoy this how to video highlighting how to sketch on 3D models.
Learn how to import 3D models from SketchUp for iPad to Morpholio Trace.
---
Additional Resources
Watch how to sketch on 3D models with Shadow Maker with Jim Akers
Meet "Shadow Maker"
How To...Sketch with "Live" 3D Models
---
Version: 5.3
About Morpholio Trace - Sketch Cad
Why Morpholio Trace for Architects, Landscape Architecture and Interior Designers?
Awarded Best Apps for architects, landscape architects, and interior designers, Trace is the dream sketch cad and architecture drawing software. Featured as both, the best app for iPad Pro and the best app for Apple Pencil, Trace combines the beauty and speed of sketching with the intelligence and precision of CAD. Whether you're drawing project concepts, sketching through schematic design and designing architectural details, or just drawing on-site visits through construction administration and making high-res PDF drawing set markups, Morpholio Trace is everything you need for your new favorite architect app, landscape design app, or interior design app all in one. Welcome to the new best drawing app for iPad Pro.
Morpholio Trace Ecosystem
Morpholio drawing apps are not only named as the best app for architects, best app for architecture, best app for interior design, best design app, best app for landscape architects, and best app for iPad Pro, but they also now work as a perfect complement to, and seamlessly with your favorite architectural software, architecture apps, cad software, cad app, and interior design software. This includes Autodesk AutoCad, TinkerCad, Revit, SketchUp, SketchUp Viewer, Rhino, Pinterest, Adobe Photoshop, Shapr3D, UMake, and many more. In addition, your Apple iPad Pro, iPhone, and Apple Pencil will never be more exciting to use as Morpholio's suite of drawing, design, and sketching apps become even more essential in your design process.