Custom Stencils
Want to have your own set of trees, entourage, unit plans, graphics, furniture, patterns, logos, and much more for your architecture, interior design, landscape design, engineering, or other creative drawing? Meet Custom Stencil. Below is a quick "How To" guide for creating your very own custom stencils from any photo or image.
Landscape design drawing by Barbara Dokshina.
---
How to Create Custom Stencils
Step 1. The "+" Button
Tap the Gear button to display your stencil library and then "+" to create your very own custom stencil.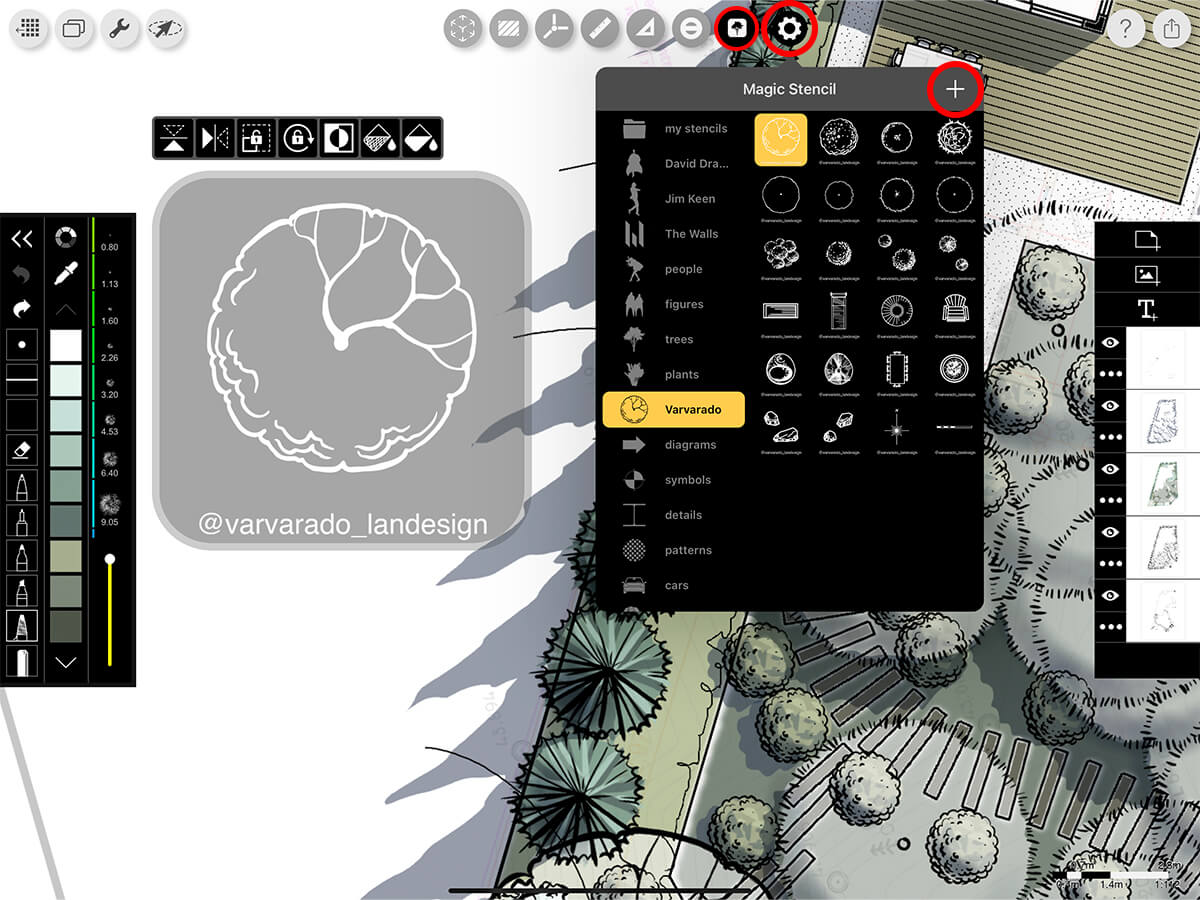 Step 2. Choose Your Image
Select any photo, drawing, image, or sketch from your Photos or cloud storage. Adjust the contrast to the desired appearance or invert as needed.
Pro Tip
All of your custom stencils will be saved in your "my stencils" folder.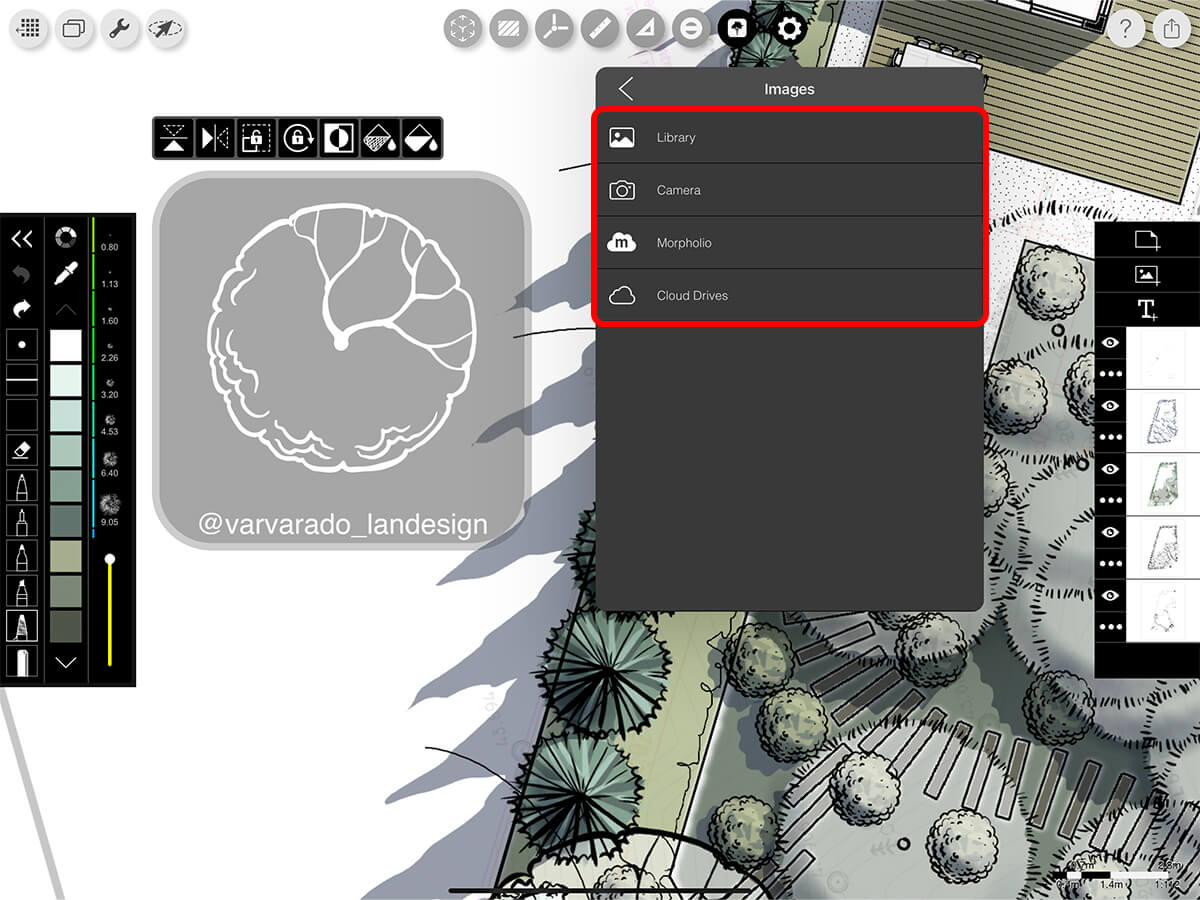 Step 3. Configure & Create Your Stencil
Adjust the size, position, contrast, or invert your image before converting it into a custom stencil.
Size & Place
Use two fingers to resize and place your image inside the custom stencil boundary.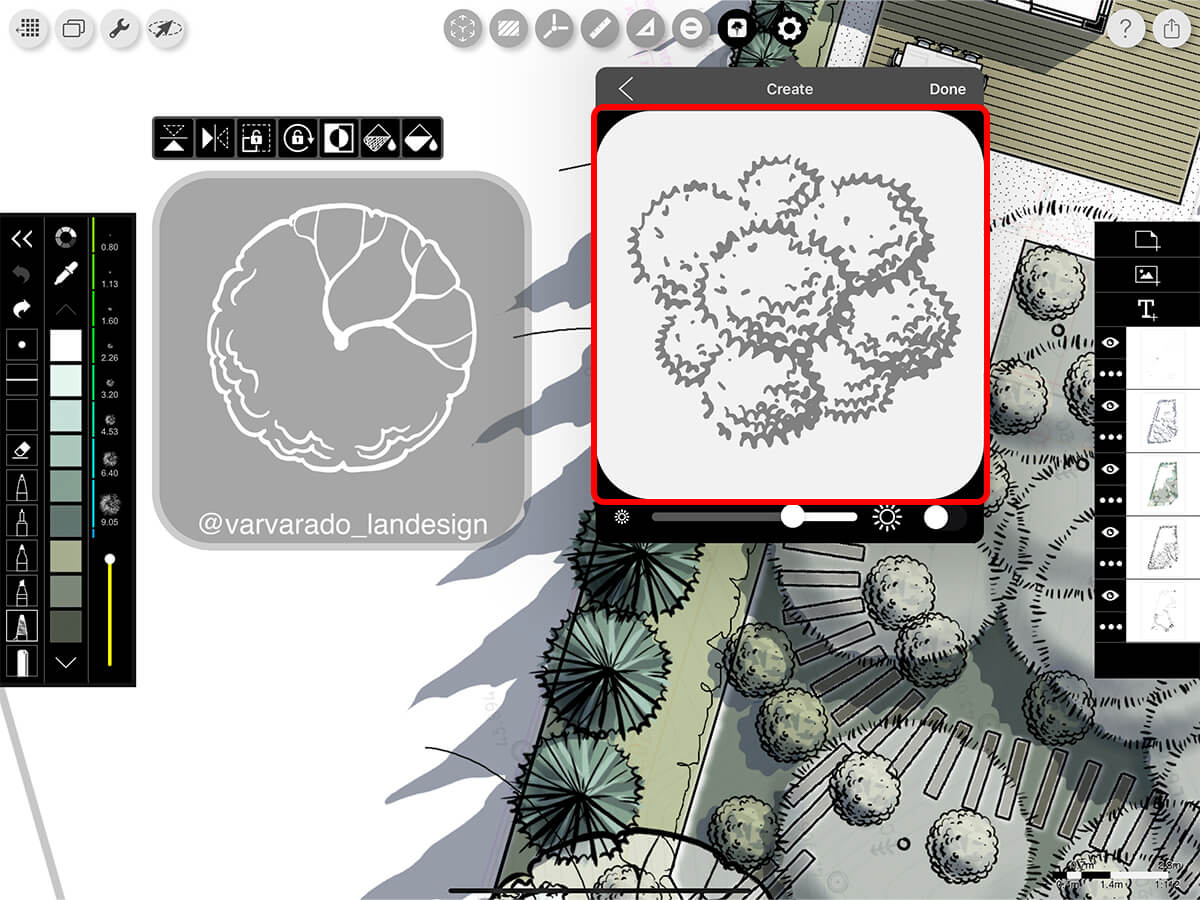 Contrast
Adjust the contrast to the desired appearance.
Invert
Invert your image to fill in the opposite part.
Create Stencil
Tap "Done" to create your custom stencil.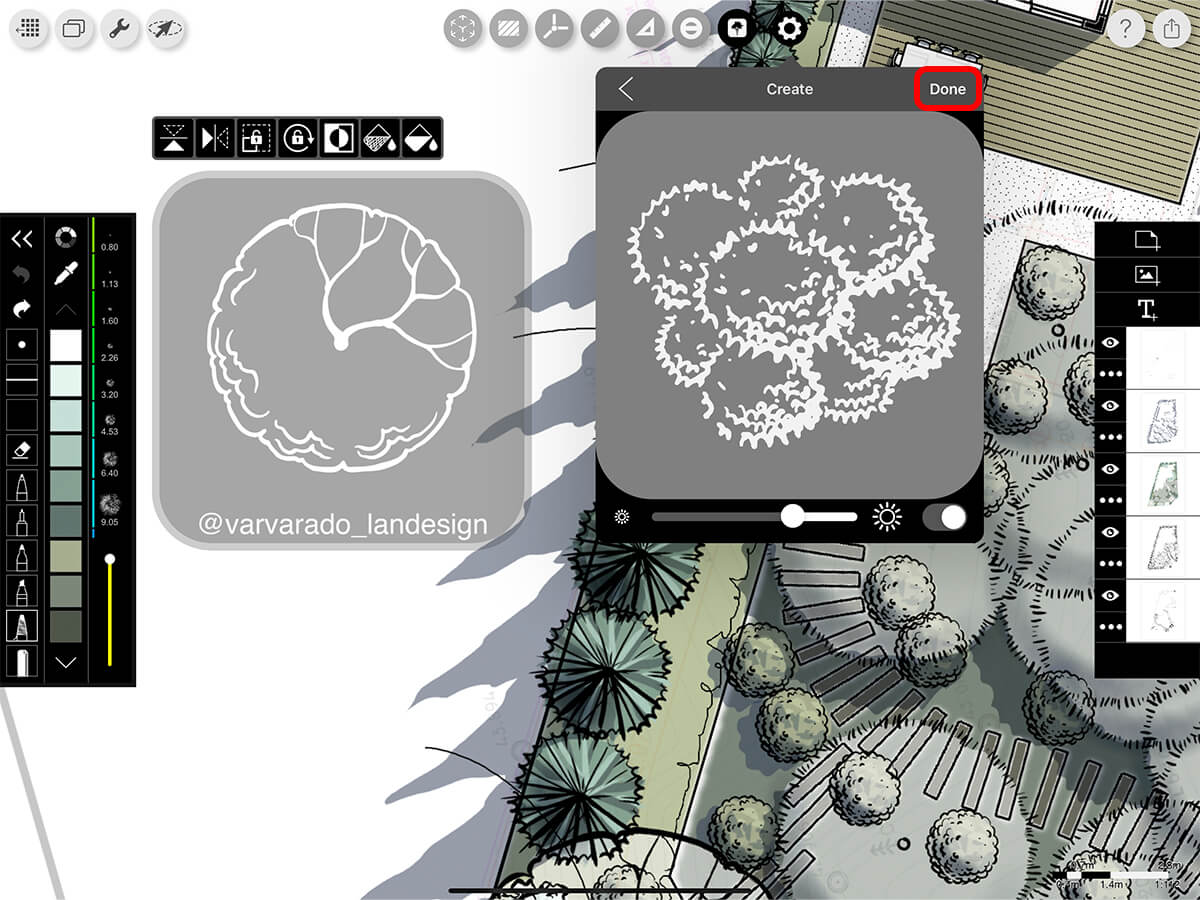 Step 4. Fill Your Stencil
Use any pen style from pencil to charcoal along with any color and opacity to create beautiful and original stencil drawings. For quick fills, you can use the Auto-Pen Stroke and Auto-Fill buttons.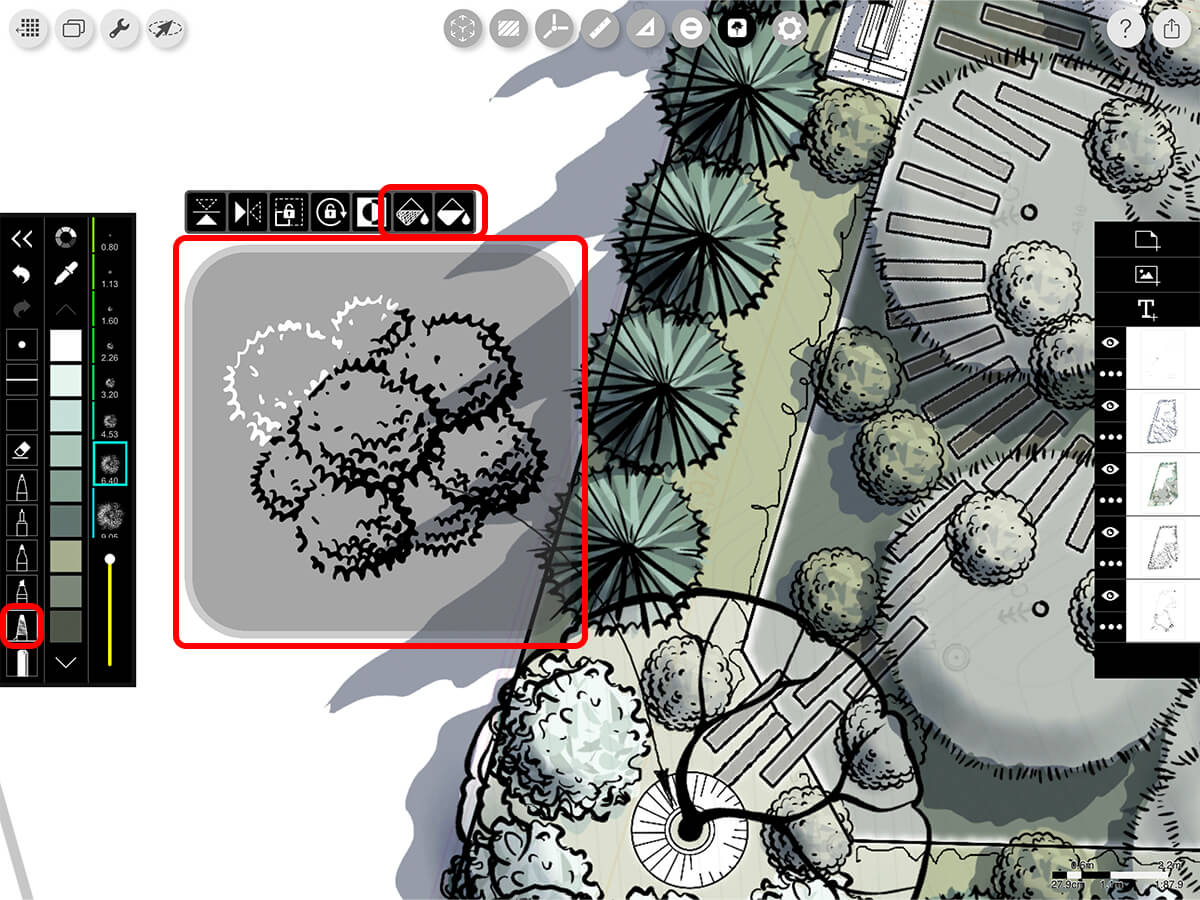 Step 5. Delete Custom Stencils
To delete a stencil simply pull the stencils down to reveal the "Delete" button.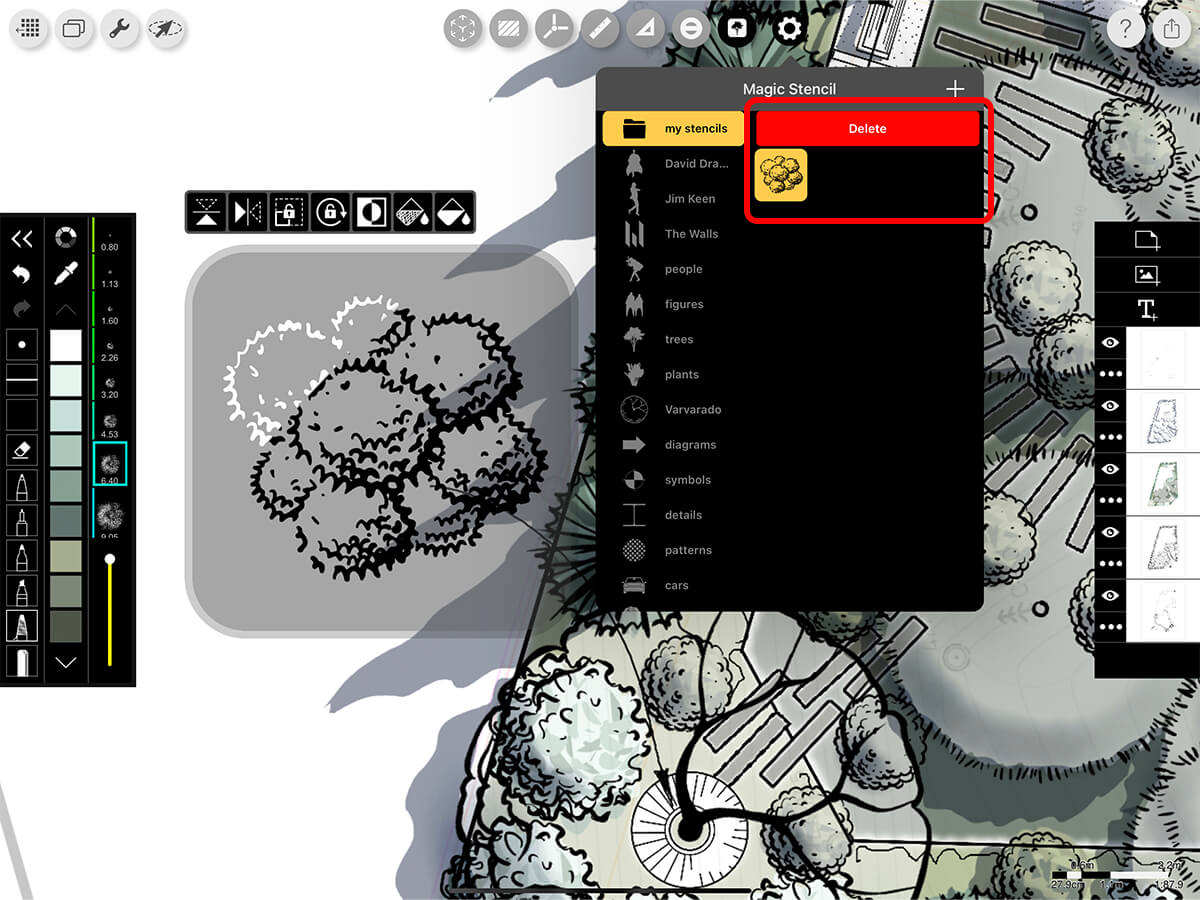 ---
How To Video
Enjoy this how to video highlighting how to create custom stencils.
---
Additional Resources
How To...Make a Custom Stencil
How to Get Creative with Custom Stencils
3 Tips for Site Plans by David Drazil
---
Version: 5.3
About Morpholio Trace - Sketch Cad
Why Morpholio Trace for Architects, Landscape Architecture and Interior Designers?
Awarded Best Apps for architects, landscape architects, and interior designers, Trace is the dream sketch cad and architecture drawing software. Featured as both, the best app for iPad Pro and the best app for Apple Pencil, Trace combines the beauty and speed of sketching with the intelligence and precision of CAD. Whether you're drawing project concepts, sketching through schematic design and designing architectural details, or just drawing on-site visits through construction administration and making high-res PDF drawing set markups, Morpholio Trace is everything you need for your new favorite architect app, landscape design app, or interior design app all in one. Welcome to the new best drawing app for iPad Pro.
Morpholio Trace Ecosystem
Morpholio drawing apps are not only named as the best app for architects, best app for architecture, best app for interior design, best design app, best app for landscape architects, and best app for iPad Pro, but they also now work as a perfect complement to, and seamlessly with your favorite architectural software, architecture apps, cad software, cad app, and interior design software. This includes Autodesk AutoCad, TinkerCad, Revit, SketchUp, SketchUp Viewer, Rhino, Pinterest, Adobe Photoshop, Shapr3D, UMake, and many more. In addition, your Apple iPad Pro, iPhone, and Apple Pencil will never be more exciting to use as Morpholio's suite of drawing, design, and sketching apps become even more essential in your design process.