Overview
Want to make beautiful perspective drawings with ease? Meet your new favorite tool. Below is a brief "How To" guide to set up and quickly master perspective drawings for architecture, interior design, and beyond.
Architecture perspective drawing by Joshua Gregg.
---
How to Get Started with Perspective Tools
Step 1. Activate Perspective Tools
Tap the Perspective Tool button to launch perspective drawing mode.
Step 2. Set Vanishing Points
If it's your first time opening perspective tools in your project, you'll automatically be pushed to choose One-, Two-, or Three-Point Perspective. You can then drag the Cross-Hairs to set your vanishing points. Vanishing points can be positioned over a blank page, site photograph, or model to start your drawing.
Pro Tip
If you need to adjust your vanishing points later, you can tap the gear icon and then "Set Vanishing Points".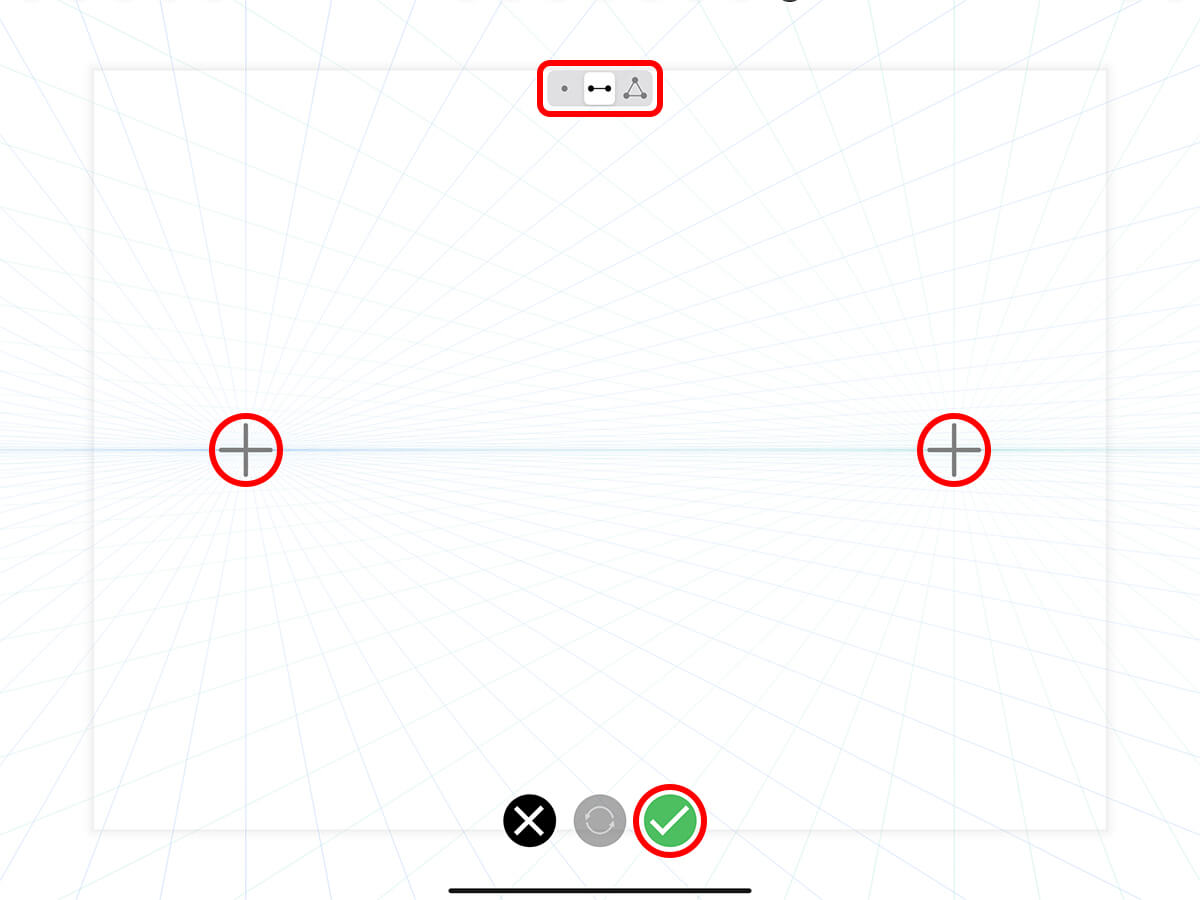 Step 3. Assisted Perspective Drawing
After you set your vanishing points, Trace will automatically create a perspective grid for you to draw on top of. You can use the "Guide" tool to draw specific lines along your perspective grid. Tap the Gear button to open your perspective settings and set up your perspective tools. Try out different combinations of the tools below to get your perfect setup.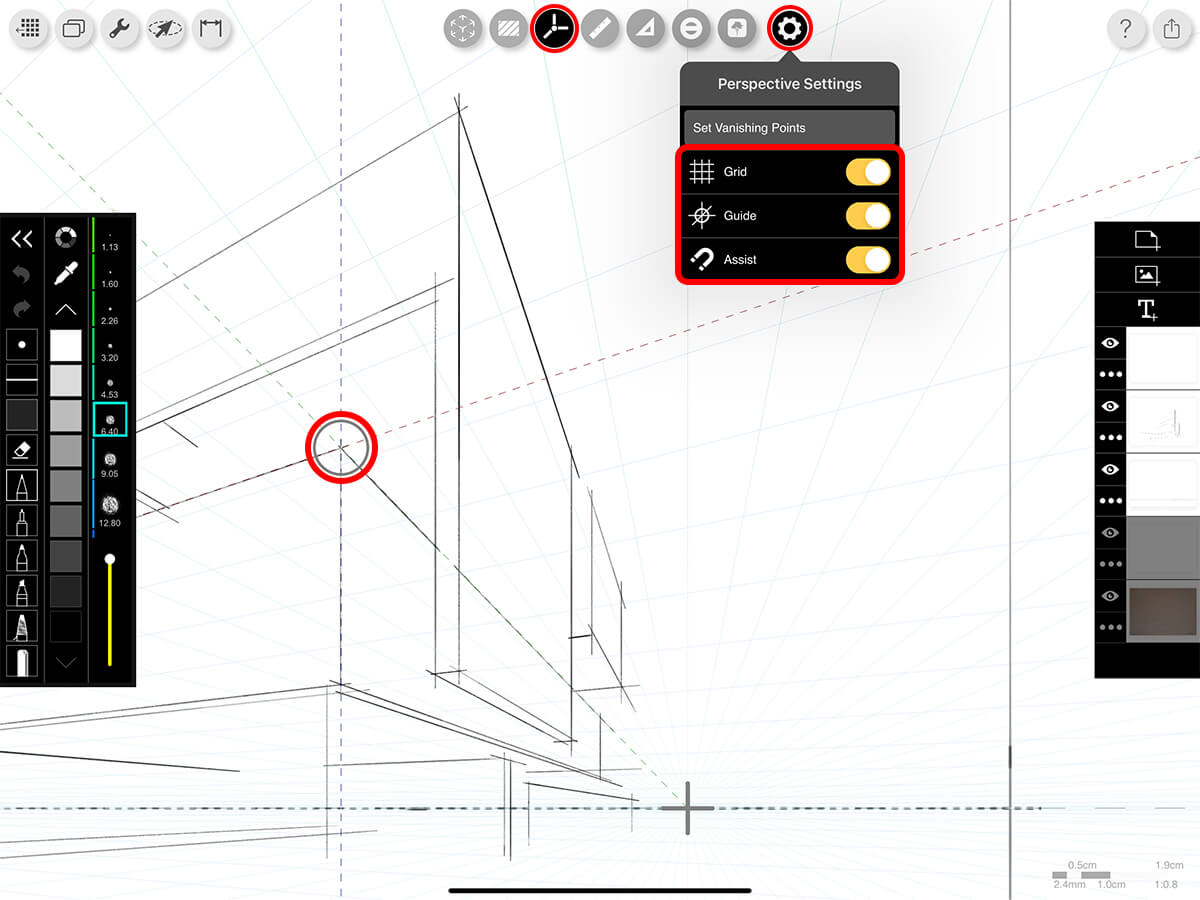 Grid
Show or hide the perspective grid.
Guide
Drag the Guide Circle to the location where you want to add your lines. You can then use your Pencil to draw lines along the guidelines.
Assist
Automatically draw towards a vanishing point from anywhere on the page.
Step 4. Free Sketch
Turn off "Assist" to sketch trees, people, details, or any other lines not directly tied to vanishing points.
Pro Tip
Use stencils, rulers, and other tools to make the drawing easy and fun. You can also bring in an image as a layer to trace over.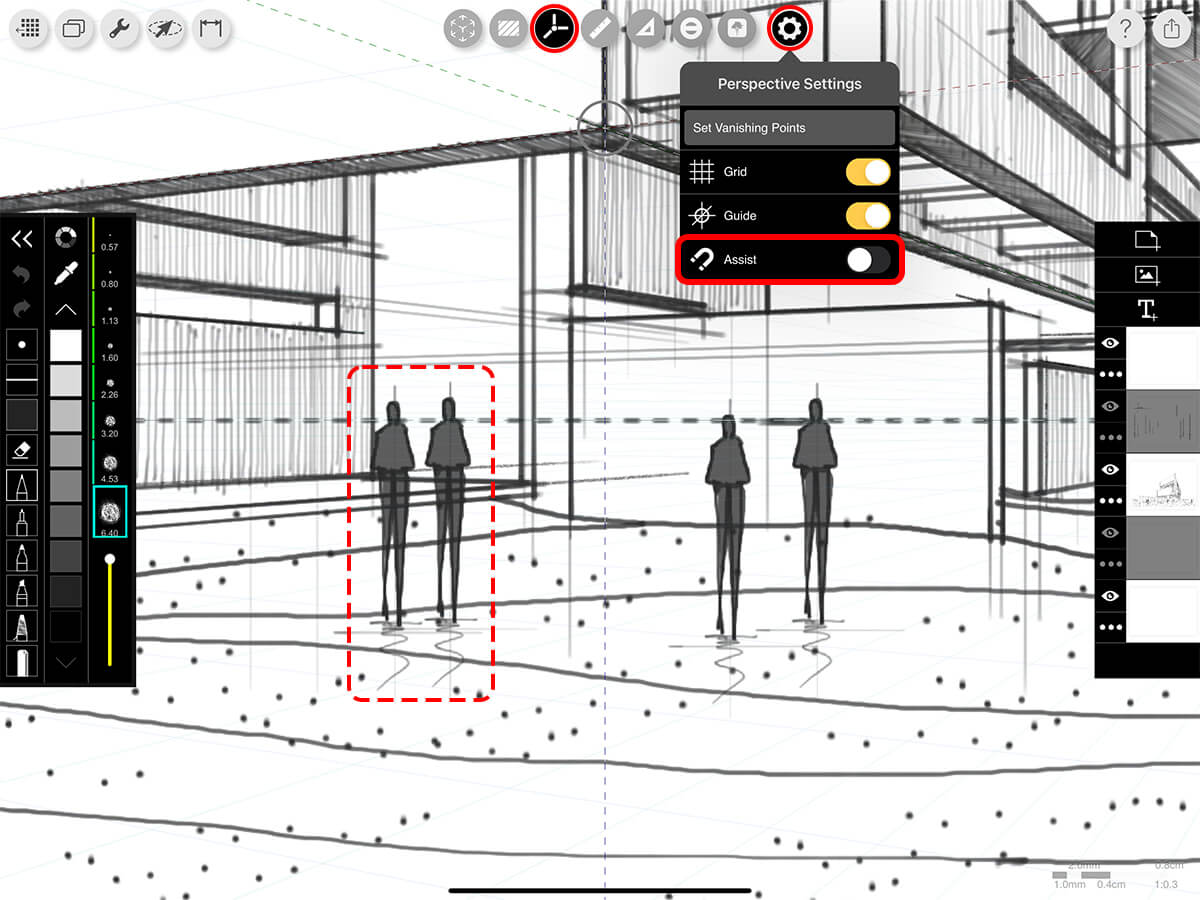 Step 5. Make it Sing
With your lines complete add color, shade, and character to make your perspective come to life. Start new layers and set the paper to multiply for your additional line-work.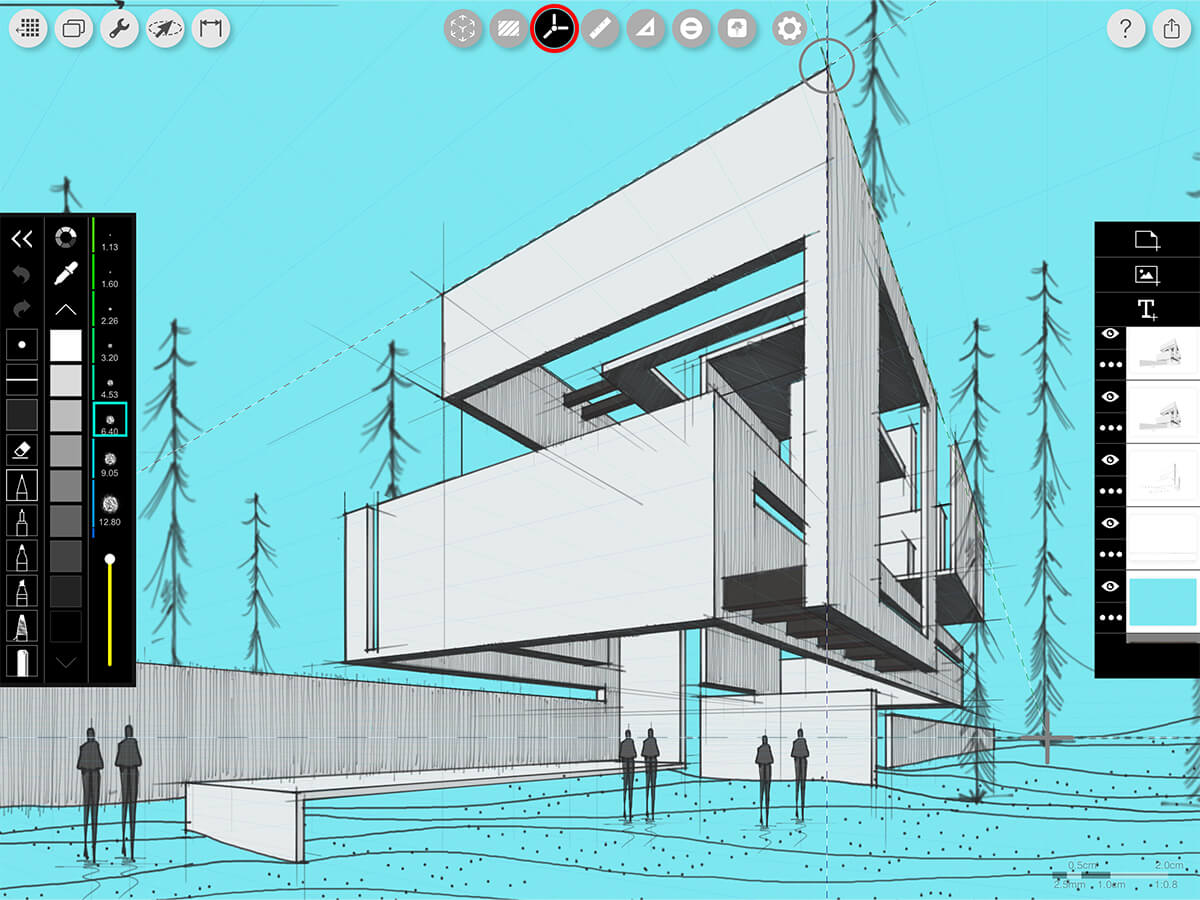 ---
How To Video
Enjoy this how to video highlighting how to draw perspectives.
---
Additional Resources
3 Tips for Perspectives by David Drazil
3 Steps to Draw an Amazing Section Perspective by David Drazil
How To…Master Perspective Tools
---
Version: 5.3
About Morpholio Trace - Sketch Cad
Why Morpholio Trace for Architects, Landscape Architecture and Interior Designers?
Awarded Best Apps for architects, landscape architects, and interior designers, Trace is the dream sketch cad and architecture drawing software. Featured as both, the best app for iPad Pro and the best app for Apple Pencil, Trace combines the beauty and speed of sketching with the intelligence and precision of CAD. Whether you're drawing project concepts, sketching through schematic design and designing architectural details, or just drawing on-site visits through construction administration and making high-res PDF drawing set markups, Morpholio Trace is everything you need for your new favorite architect app, landscape design app, or interior design app all in one. Welcome to the new best drawing app for iPad Pro.
Morpholio Trace Ecosystem
Morpholio drawing apps are not only named as the best app for architects, best app for architecture, best app for interior design, best design app, best app for landscape architects, and best app for iPad Pro, but they also now work as a perfect complement to, and seamlessly with your favorite architectural software, architecture apps, cad software, cad app, and interior design software. This includes Autodesk AutoCad, TinkerCad, Revit, SketchUp, SketchUp Viewer, Rhino, Pinterest, Adobe Photoshop, Shapr3D, UMake, and many more. In addition, your Apple iPad Pro, iPhone, and Apple Pencil will never be more exciting to use as Morpholio's suite of drawing, design, and sketching apps become even more essential in your design process.