Help Tools
Sometimes when you're drawing, you'll have a question and need more insight. There are many different resources to help: videos, user guides, direct support and more!
Architecture site plan drawing by Omar Calderon.
---
How to Navigate Help Resources
Help is always just two taps away. Learn about the different support resources below.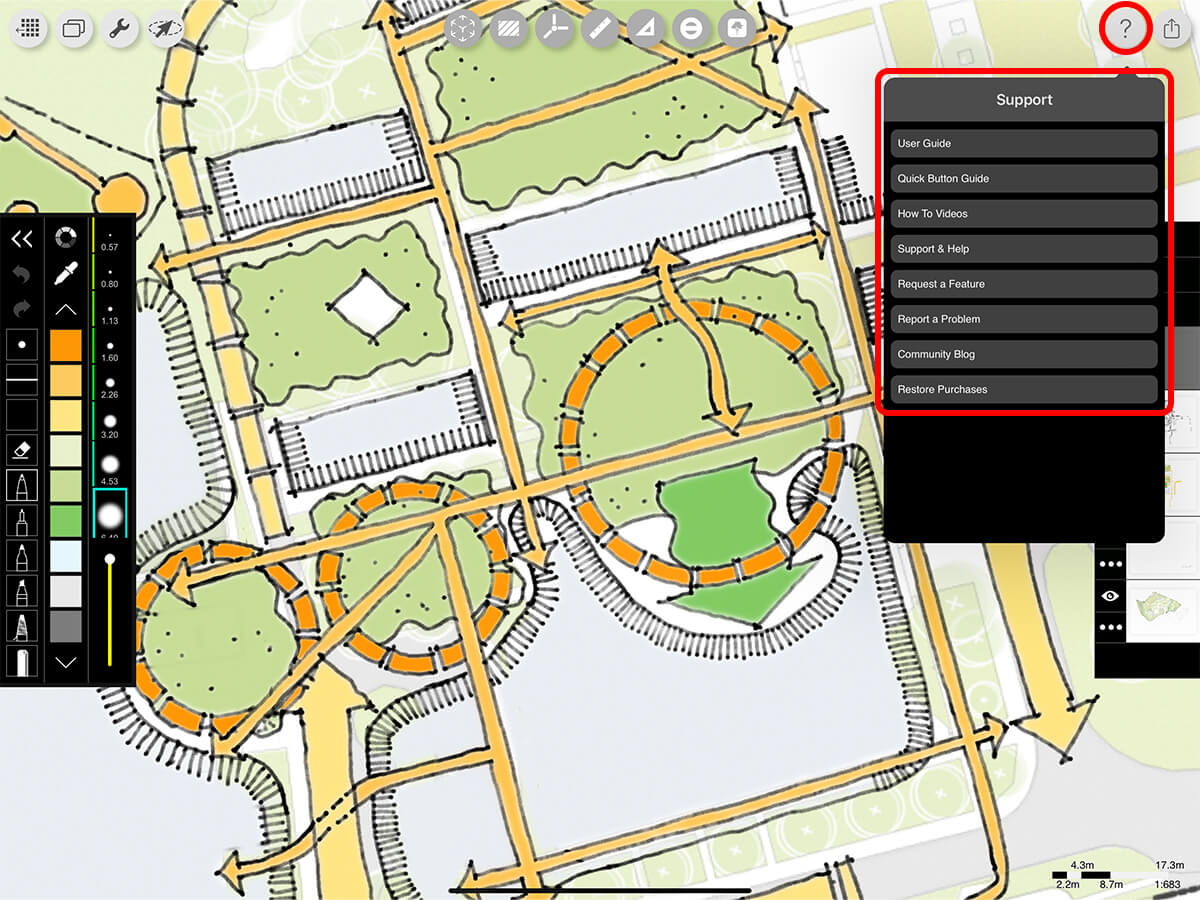 User Guide
You're viewing it! An online step-by-step guide to every feature and tool in Trace.
Quick Button Guide
Quickly identify each button on the drawing interface.
How To Videos
Check out detailed videos to get started with all of the Trace tools and features.
Support & Help
Search for any question about Morpholio Trace on the Support webpage.
Request a Feature
We love hearing your ideas about how Trace can continue to improve and expand.
Report a Problem
Send us a message to get direct help from our expert support team.
Community Blog
Stay up to date on the latest features added to the app and get inspired by the monthly "Best Sketches" list.
Restore Purchases
If you have a Pro subscription and you don't have access to your Pro tools, tap "Restore Purchases" to reset your subscription connection.
---
Version: 5.3
About Morpholio Trace - Sketch Cad
Why Morpholio Trace for Architects, Landscape Architecture and Interior Designers?
Awarded Best Apps for architects, landscape architects, and interior designers, Trace is the dream sketch cad and architecture drawing software. Featured as both, the best app for iPad Pro and the best app for Apple Pencil, Trace combines the beauty and speed of sketching with the intelligence and precision of CAD. Whether you're drawing project concepts, sketching through schematic design and designing architectural details, or just drawing on-site visits through construction administration and making high-res PDF drawing set markups, Morpholio Trace is everything you need for your new favorite architect app, landscape design app, or interior design app all in one. Welcome to the new best drawing app for iPad Pro.
Morpholio Trace Ecosystem
Morpholio drawing apps are not only named as the best app for architects, best app for architecture, best app for interior design, best design app, best app for landscape architects, and best app for iPad Pro, but they also now work as a perfect complement to, and seamlessly with your favorite architectural software, architecture apps, cad software, cad app, and interior design software. This includes Autodesk AutoCad, TinkerCad, Revit, SketchUp, SketchUp Viewer, Rhino, Pinterest, Adobe Photoshop, Shapr3D, UMake, and many more. In addition, your Apple iPad Pro, iPhone, and Apple Pencil will never be more exciting to use as Morpholio's suite of drawing, design, and sketching apps become even more essential in your design process.