Selection
Calculating the area of a design is already difficult, but doing it live, in an active sketch, without a single straight line, in seconds? Now that's a tall ask!! Meet "Smart Fill & Hatch", a fill and hatch tool that not only calculates the area of the fill or hatch, it actually updates as you sketch. This tool will soon become essential in your architecture, interior design, or landscape design drawing practice.
Architecture plan drawing by SO-IL.
---
How to Select with Smart Fill & Hatch
Below is a quick "How To" guide to select any region to fill, hatch, or calculate the area on any drawing, sketch, illustration, or image.
Step 1. Activate Smart Fill
Tap the Smart Fill button to begin.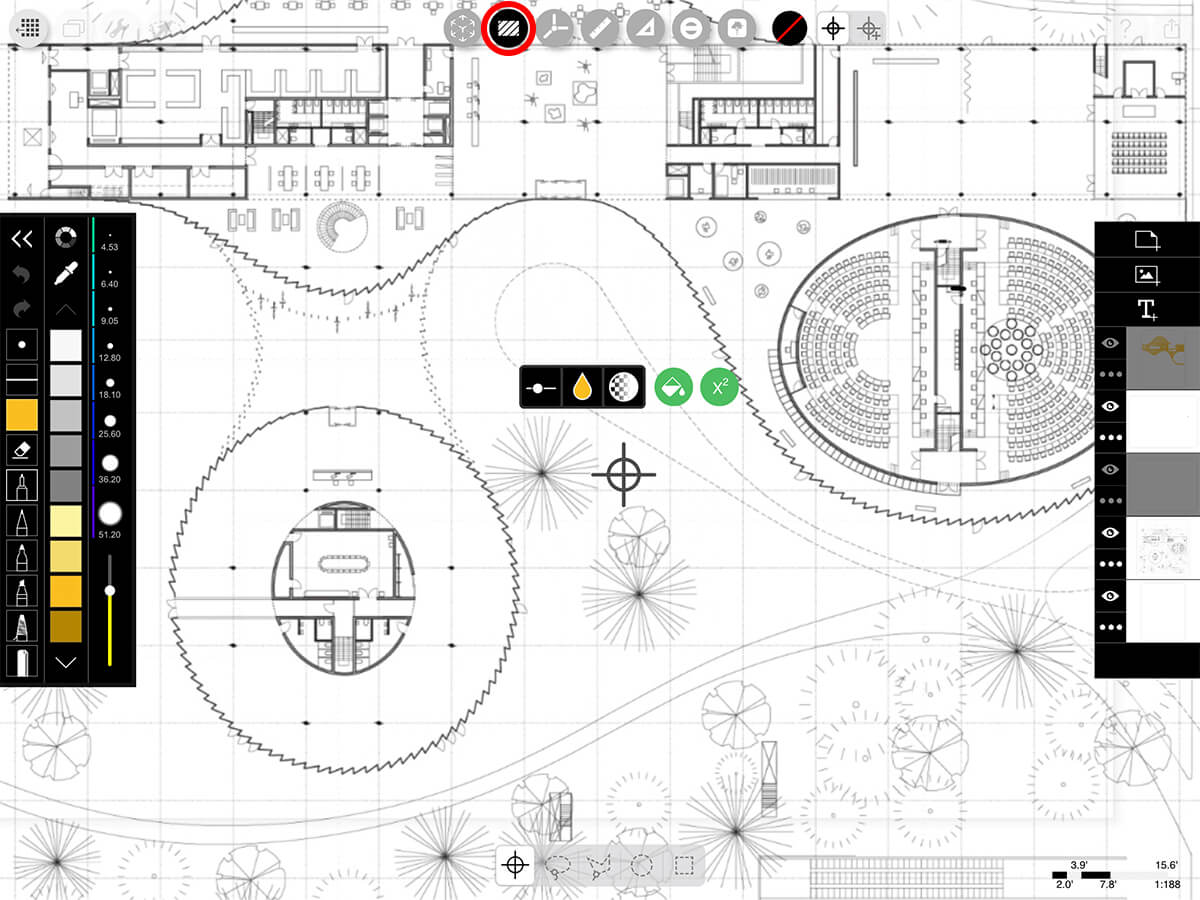 Step 2. "Target" Selection Modes
The Target is the default selection mode. You can use the target to fill, hatch, or calculate the area of a region that is already drawn – no matter how unique the shape is. Be sure that your lines are all closed for the target mode to work.
Pro Tip
If your lines aren't contrasting the background enough, the tool might not find the right boundary.
Single Region
Drag the Target into a single closed region to select it.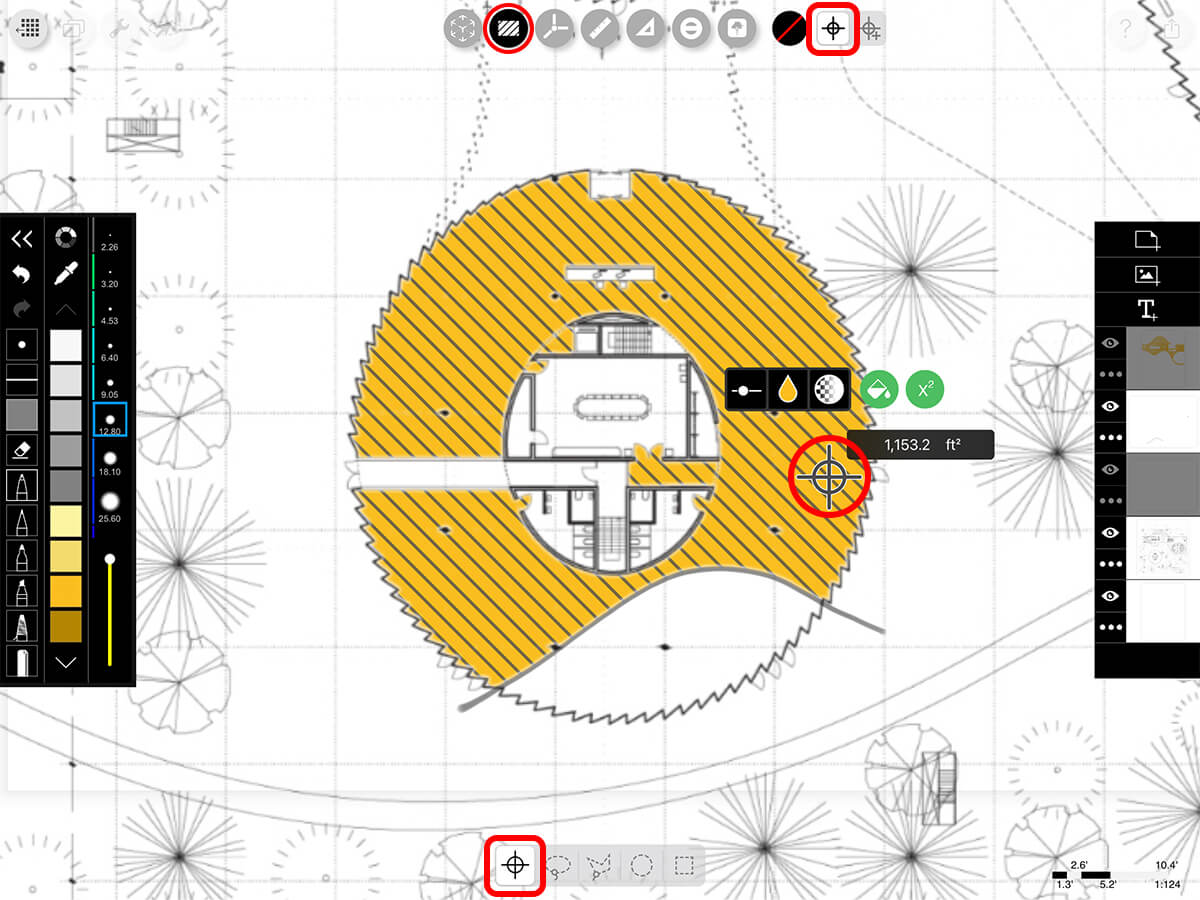 Multi-Region
Toggle the Target Mode to multi-region. Then, drag the target into any closed region to select it. Repeat this process to select multiple regions.
Adjust Your Tolerance
If your fill is spreading over the entire screen or if it's only getting a small piece of your drawing, tap the Tolerance button and adjust the slider to change your fill tolerance.
Step 3. "Lasso" Selection Modes
Use these "Lasso" Selection Modes to define your own boundary to fill with a freeform curve or with straight edges.
Freeform Lasso
Drag the Pencil to create a freeform curve region.
Polygon Lasso
Tap the Pencil to define each point of your straight-sided polygon region. To close your polygon, tap on the start point.
Step 4. "Marquee" Selection Modes
Use these "Marquee" Selection Modes to quick-select a circular or rectangular region.
Circle/Ellipse
Drag your Pencil to create a circular or elliptical selection.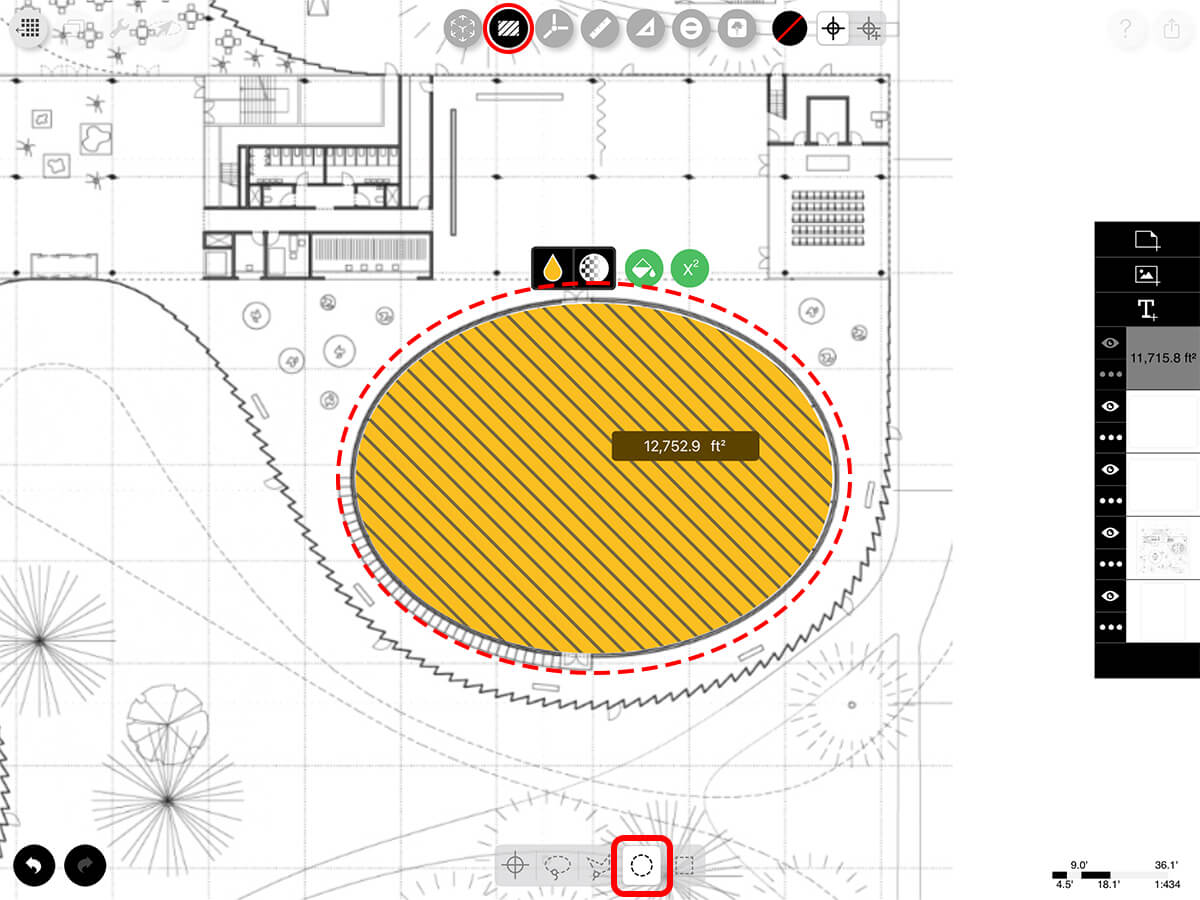 Rectangle
Drag your Pencil to create a rectangular selection.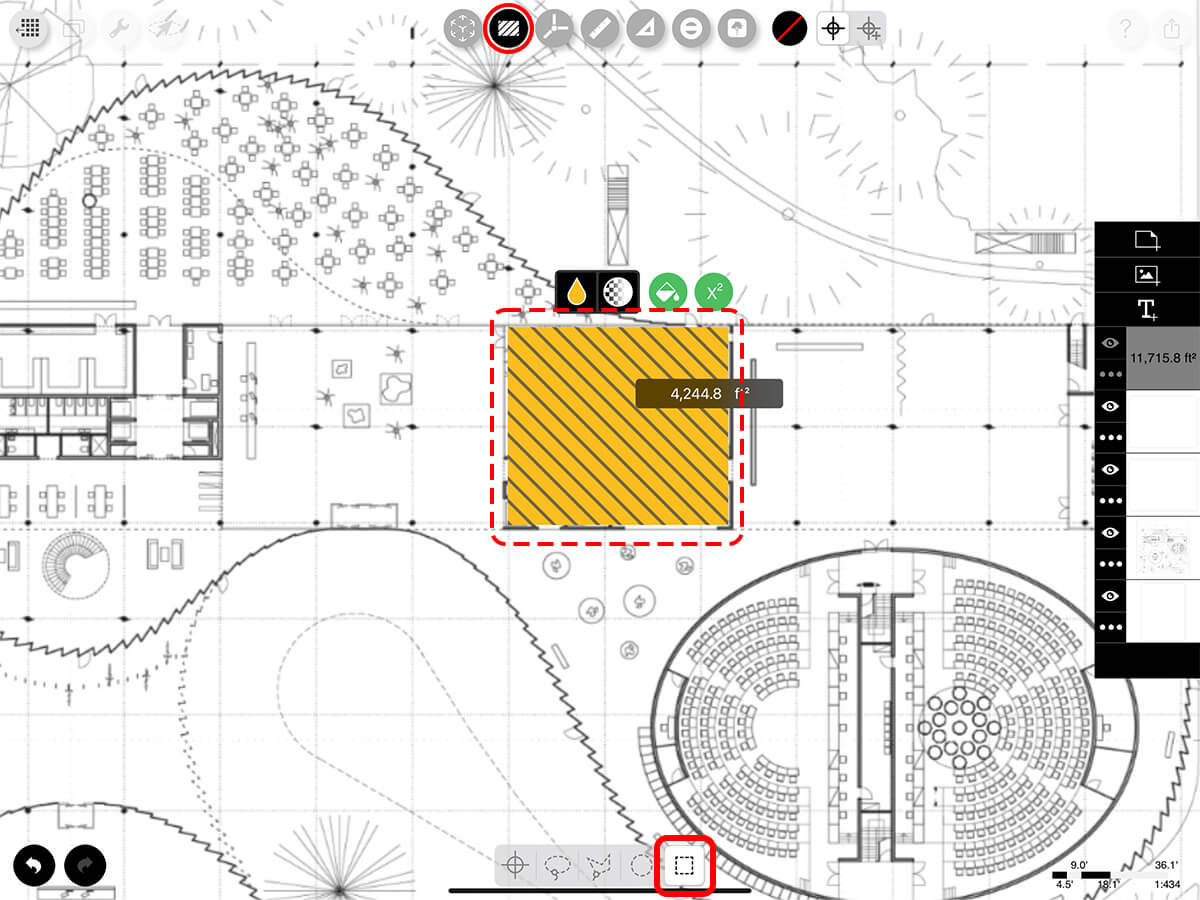 Step 5. Add Your Fills & Hatches
Learn more about Smart Fill here >
Learn more about Smart Fill here >
---
How To Video
Enjoy this how to video highlighting how to get started with Smart Fill.
---
Additional Resources
How To...Smart Fill
How To...Smart Hatch
---
Version: 5.3
About Morpholio Trace - Sketch Cad
Why Morpholio Trace for Architects, Landscape Architecture and Interior Designers?
Awarded Best Apps for architects, landscape architects, and interior designers, Trace is the dream sketch cad and architecture drawing software. Featured as both, the best app for iPad Pro and the best app for Apple Pencil, Trace combines the beauty and speed of sketching with the intelligence and precision of CAD. Whether you're drawing project concepts, sketching through schematic design and designing architectural details, or just drawing on-site visits through construction administration and making high-res PDF drawing set markups, Morpholio Trace is everything you need for your new favorite architect app, landscape design app, or interior design app all in one. Welcome to the new best drawing app for iPad Pro.
Morpholio Trace Ecosystem
Morpholio drawing apps are not only named as the best app for architects, best app for architecture, best app for interior design, best design app, best app for landscape architects, and best app for iPad Pro, but they also now work as a perfect complement to, and seamlessly with your favorite architectural software, architecture apps, cad software, cad app, and interior design software. This includes Autodesk AutoCad, TinkerCad, Revit, SketchUp, SketchUp Viewer, Rhino, Pinterest, Adobe Photoshop, Shapr3D, UMake, and many more. In addition, your Apple iPad Pro, iPhone, and Apple Pencil will never be more exciting to use as Morpholio's suite of drawing, design, and sketching apps become even more essential in your design process.