Set Grid
Drawing over a grid is the best and easiest way to sketch to scale while keeping your design in order and aligned. With Scale Grid in Trace, you can choose an orthogonal or isometric grid and set your grid's scale and orientation. You can also align the grid to an existing drawing and change the appearance to make the grid as visible or as faint as you prefer. This tool is designed with architects, interior designers, and landscape designers in mind but will help any creative take their drawings to the next level.
Architecture section drawing by WORKac.
---
How to Set Up Your Scale Grid
Step 1. Show Grid & Enter Set Grid
Tap the Wrench button and then "Scale". Toggle "Show Grid" on to make your grid visible. Next, tap "Set Grid" to enter grid edit mode.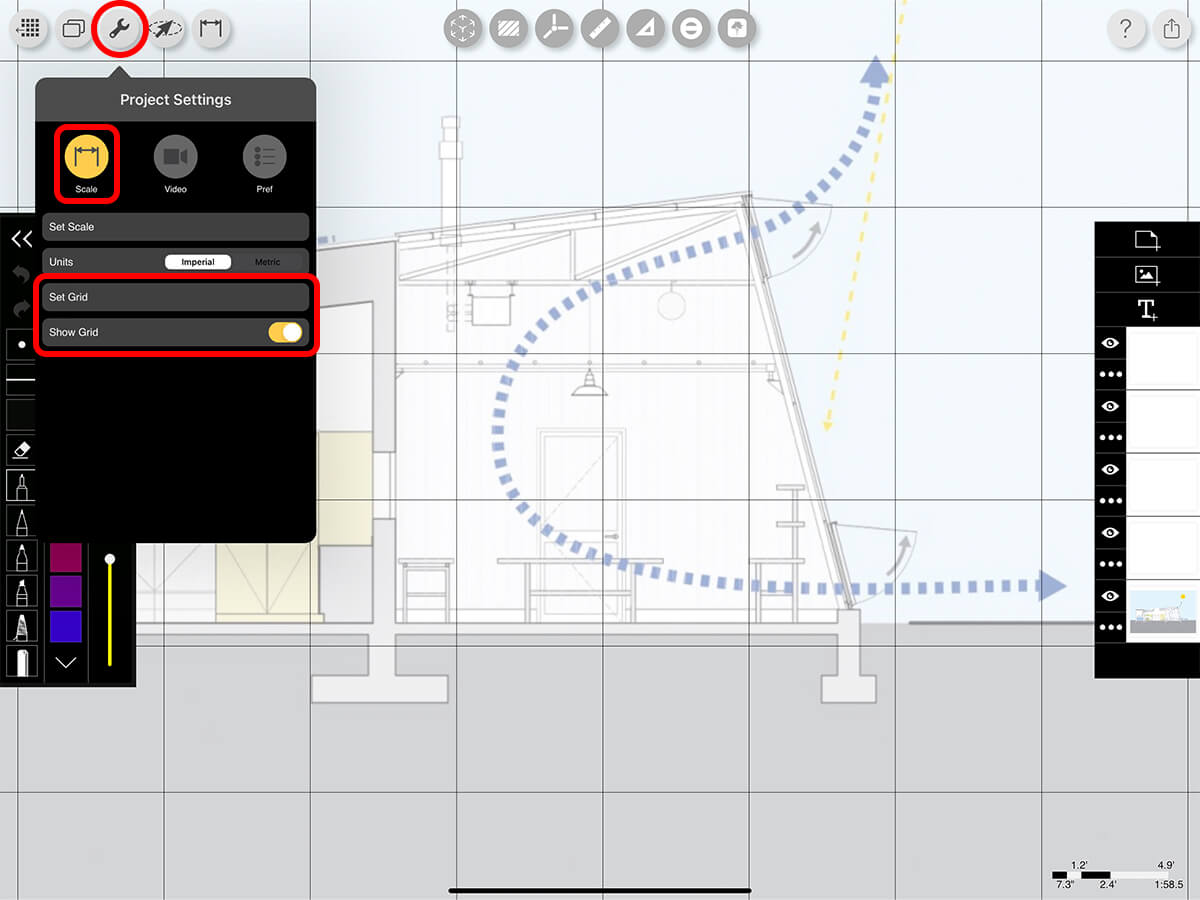 Step 2. Choose Your Grid Type
Toggle between orthogonal lines, isometric lines, or orthogonal dots.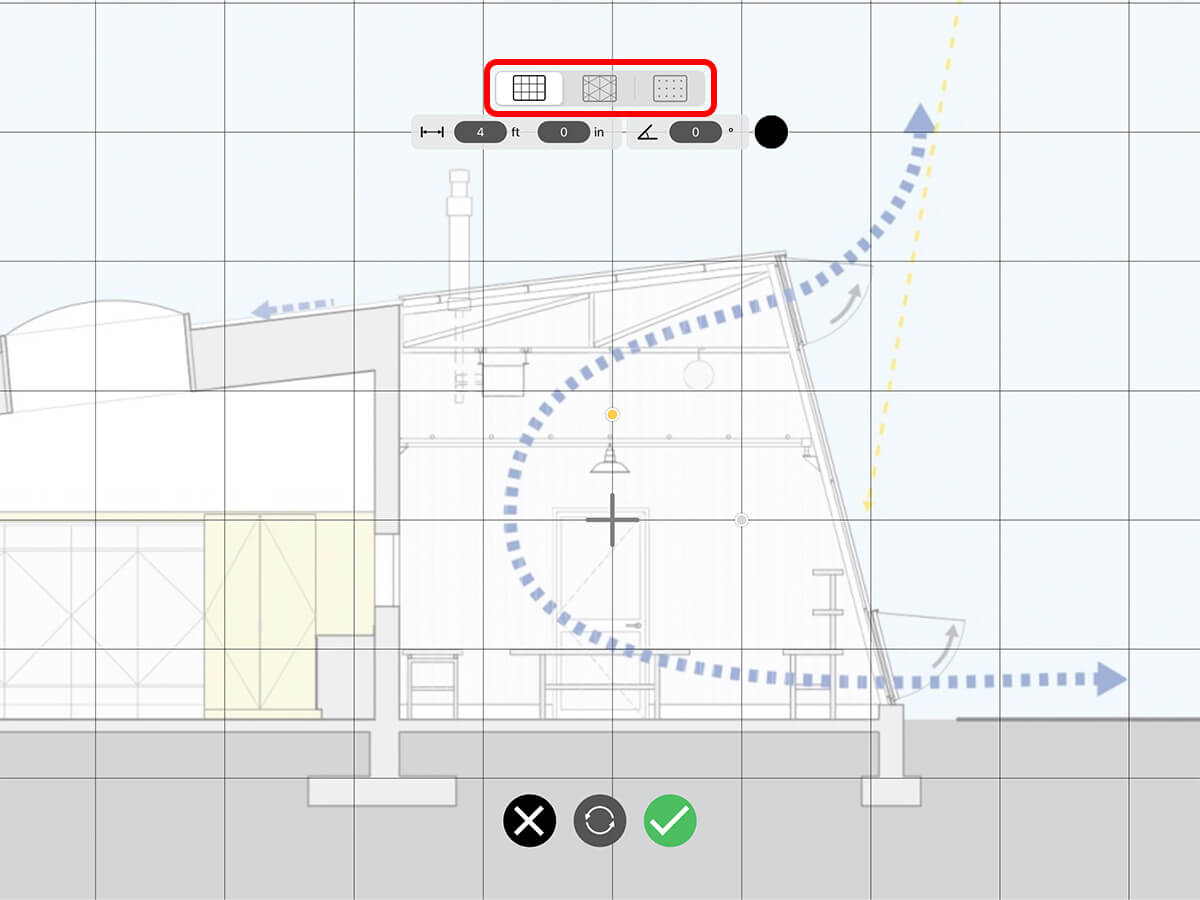 Step 3. Align Your Grid
Drag the Cross-Hair to align the origin of your grid with an existing drawing. Alternatively, you can tap the Cross-Hair to align the grid to a corner, edge, or the center of your base layer.
Step 4. Set Your Scale & Orientation
Tap each input to change the grid size and the rotation of your grid.
Pro Tip
To set your units to imperial or metric, tap on the Wrench icon and select "Scale".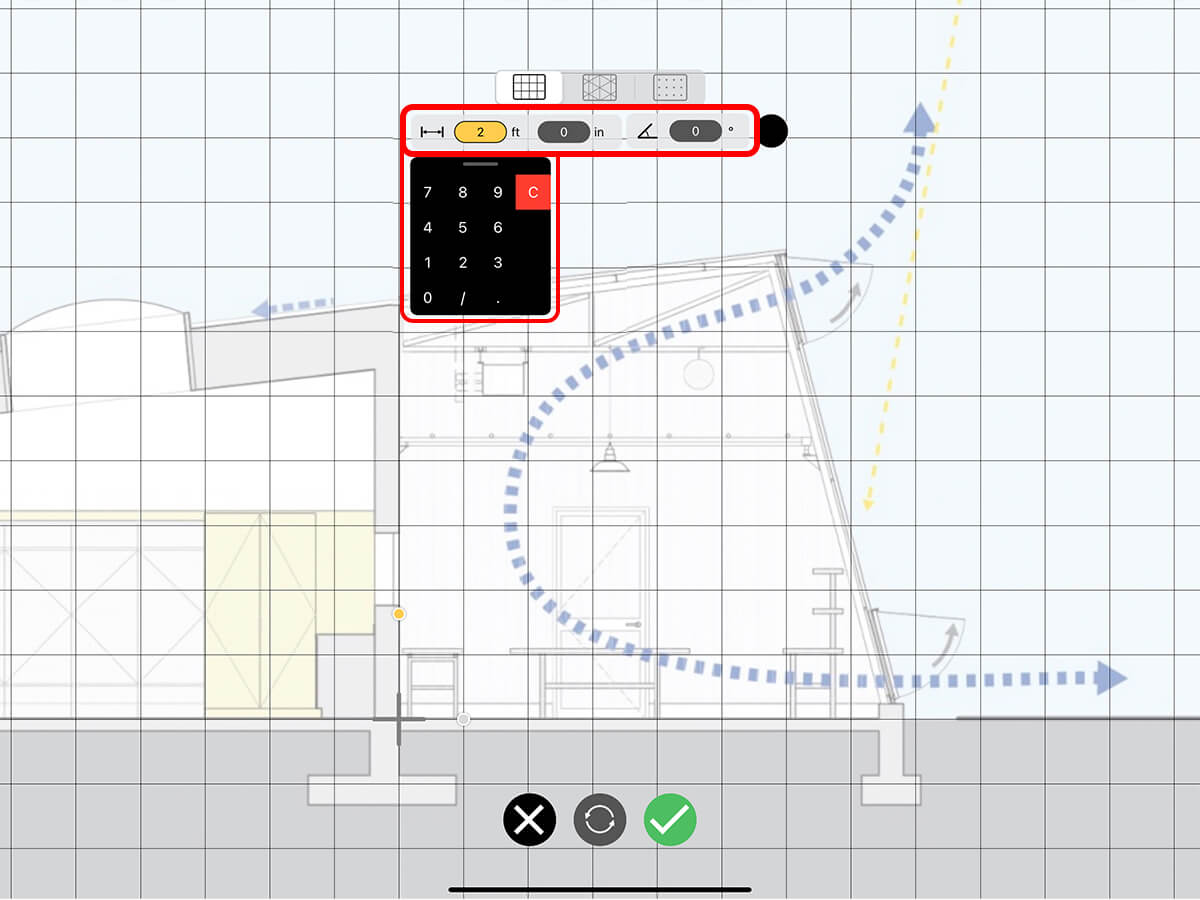 Step 5. Adjust the Appearance
Tap the Color Circle to change the color. Adjust the slider on the bottom to change the opacity. When your grid is set, tap the Green Check to apply your changes and start drawing!
---
How to Video
Enjoy this how to video highlighting how to set up your Scale Grid.
---
Additional Resources
What's New in Trace 5.21
---
Version: 5.3
About Morpholio Trace - Sketch Cad
Why Morpholio Trace for Architects, Landscape Architecture and Interior Designers?
Awarded Best Apps for architects, landscape architects, and interior designers, Trace is the dream sketch cad and architecture drawing software. Featured as both, the best app for iPad Pro and the best app for Apple Pencil, Trace combines the beauty and speed of sketching with the intelligence and precision of CAD. Whether you're drawing project concepts, sketching through schematic design and designing architectural details, or just drawing on-site visits through construction administration and making high-res PDF drawing set markups, Morpholio Trace is everything you need for your new favorite architect app, landscape design app, or interior design app all in one. Welcome to the new best drawing app for iPad Pro.
Morpholio Trace Ecosystem
Morpholio drawing apps are not only named as the best app for architects, best app for architecture, best app for interior design, best design app, best app for landscape architects, and best app for iPad Pro, but they also now work as a perfect complement to, and seamlessly with your favorite architectural software, architecture apps, cad software, cad app, and interior design software. This includes Autodesk AutoCad, TinkerCad, Revit, SketchUp, SketchUp Viewer, Rhino, Pinterest, Adobe Photoshop, Shapr3D, UMake, and many more. In addition, your Apple iPad Pro, iPhone, and Apple Pencil will never be more exciting to use as Morpholio's suite of drawing, design, and sketching apps become even more essential in your design process.