Super Triangle
An adjustable triangle is a staple of every drafting setup. Morpholio has supercharged this tool for the best drawing app for iPad, transforming it into a Super Triangle for drawing accurate, straight lines at any angle!
Architecture and interior design plan drawing by Ayesha Isahac.
---
How to Get Started with the Super Triangle
Step 1. Measure & Draw
Tap the Super Triangle button to turn on the Super Triangle. You can use this tool to draw straight lines along the edge. You can also measure distances with the triangle edge. When you zoom in and out, you'll see that the units adjust to give you the best measurements at any view.
Pro Tip
Rotate the Super Triangle three times to get an angle less than 3°.
Step 2. Set Your Angle
You can use the slider or the drop-down menu to set the angle of your triangle.
Step 3. Parallel & Perpendicular Lines with Assist
To draw straight lines parallel and perpendicular to each edge of the triangle, tap the Gear button and then turn "Assist" on.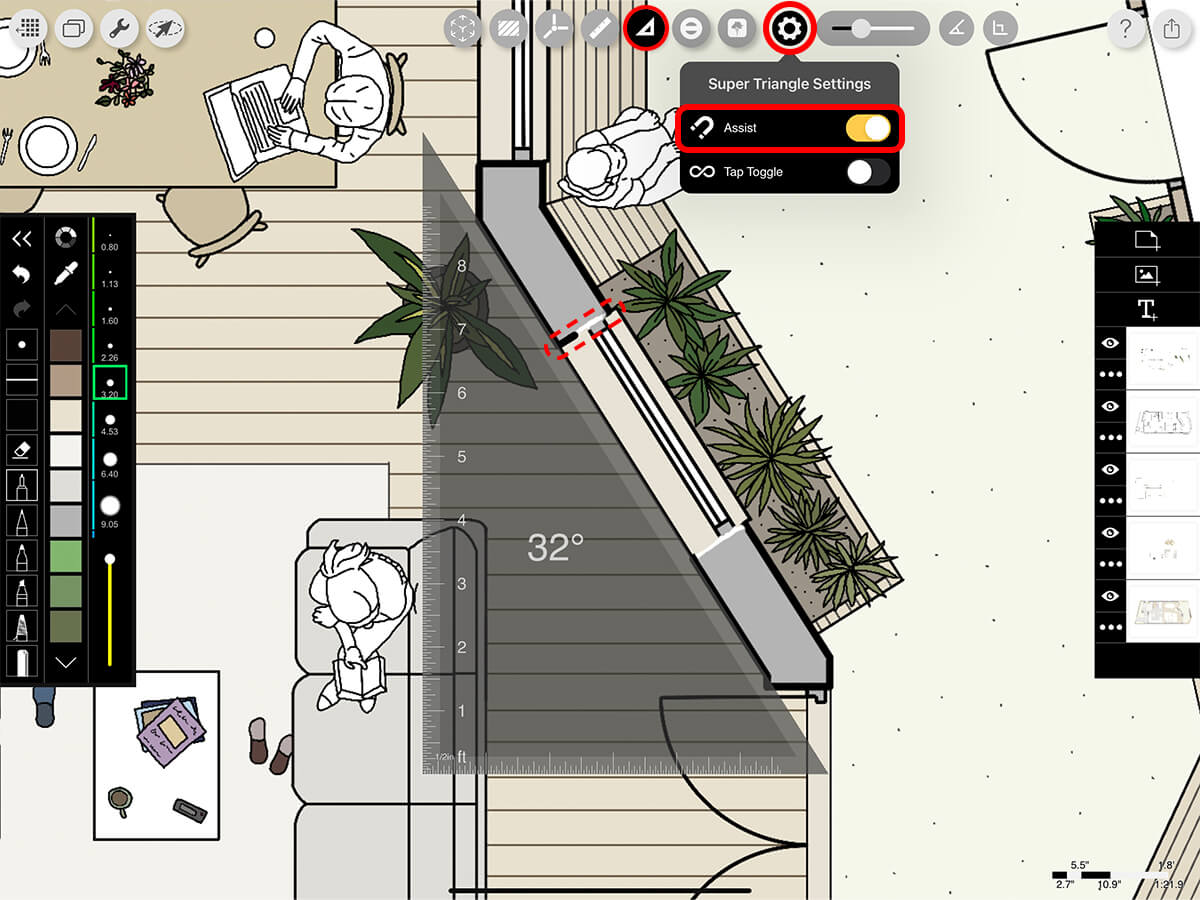 Step 4. Draw Straight Lines in Any Direction
Turn on the "∞ Tap Toggle" button to quickly move between drawing lines that snap to the triangle's edge and infinite angle mode that lets you draw straight lines in any direction. While you draw a line with your Pencil, tap the screen with one finger to toggle between these two modes.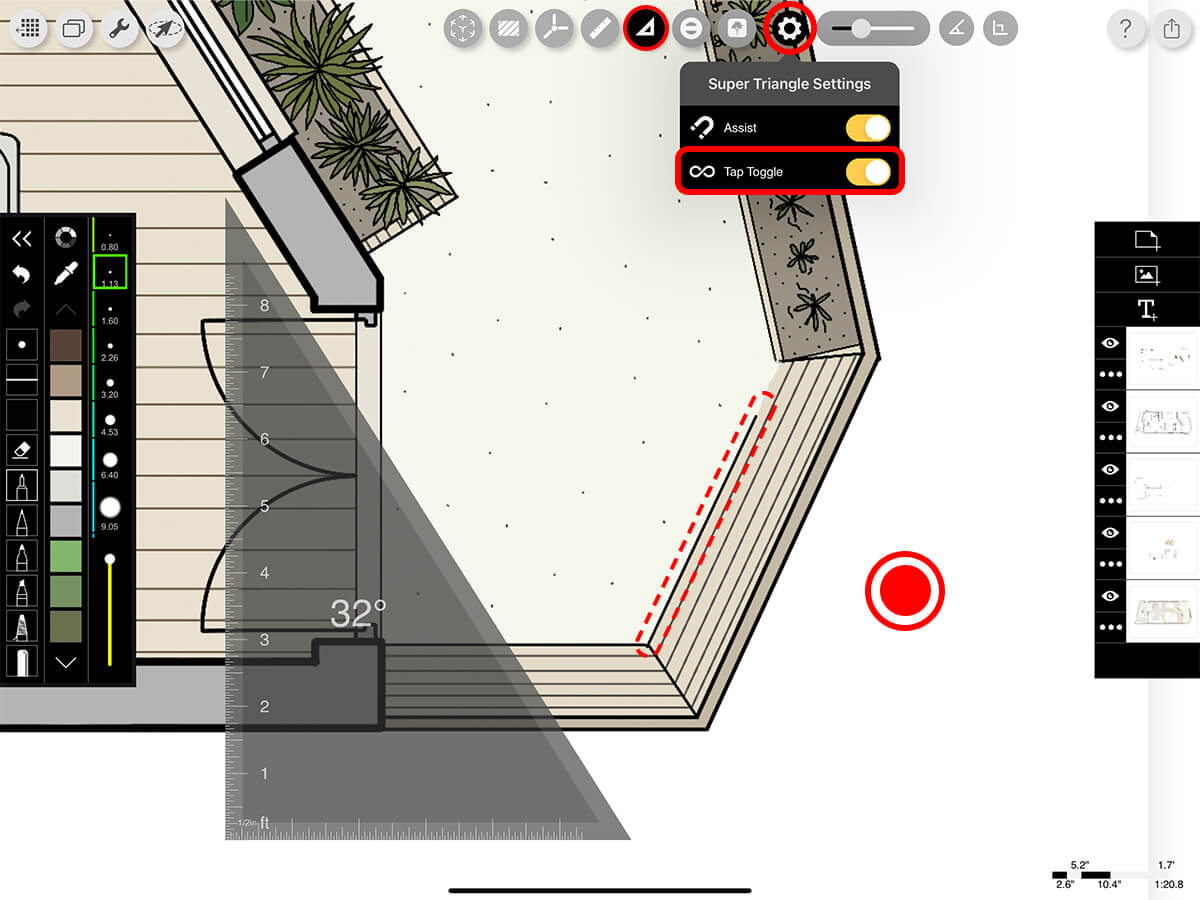 ---
How To Video
Enjoy this how to video highlighting how to get started with the Super Triangle.
---
Additional Resources
How To...Set Scale
---
Version: 5.3
About Morpholio Trace - Sketch Cad
Why Morpholio Trace for Architects, Landscape Architecture and Interior Designers?
Awarded Best Apps for architects, landscape architects, and interior designers, Trace is the dream sketch cad and architecture drawing software. Featured as both, the best app for iPad Pro and the best app for Apple Pencil, Trace combines the beauty and speed of sketching with the intelligence and precision of CAD. Whether you're drawing project concepts, sketching through schematic design and designing architectural details, or just drawing on-site visits through construction administration and making high-res PDF drawing set markups, Morpholio Trace is everything you need for your new favorite architect app, landscape design app, or interior design app all in one. Welcome to the new best drawing app for iPad Pro.
Morpholio Trace Ecosystem
Morpholio drawing apps are not only named as the best app for architects, best app for architecture, best app for interior design, best design app, best app for landscape architects, and best app for iPad Pro, but they also now work as a perfect complement to, and seamlessly with your favorite architectural software, architecture apps, cad software, cad app, and interior design software. This includes Autodesk AutoCad, TinkerCad, Revit, SketchUp, SketchUp Viewer, Rhino, Pinterest, Adobe Photoshop, Shapr3D, UMake, and many more. In addition, your Apple iPad Pro, iPhone, and Apple Pencil will never be more exciting to use as Morpholio's suite of drawing, design, and sketching apps become even more essential in your design process.