Overview
Your moodboard super tools will help you organize, edit, and arrange the images you add to your interior design moodboard or creative collage.
---
How to Get Started with Moodboard Super Tools
Learn how to delete, duplicate, arrange, mirror, crop, cut out your images and much more.


Step 1. Select an Item
To access your moodboard super tools, tap once any image, swatch, text, or drawing to select it. Then you will see your moodboard super tools appear.
Pro Tip
If you can't select an image, open your Layers to make sure that it is not locked.
Step 2. Place & Transform Your Item
Place, resize, and rotate your item to get it onto the right spot on your board.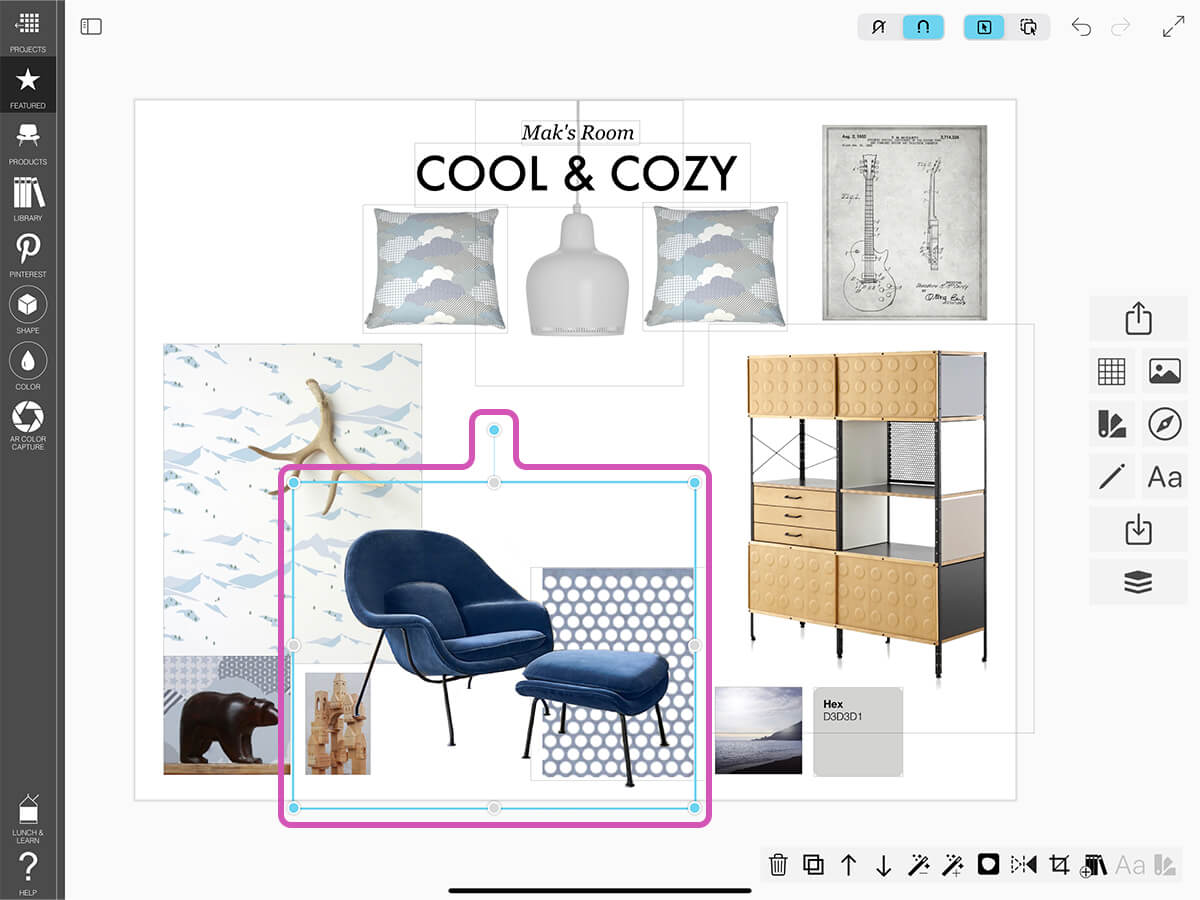 Step 3. Edit Your Item
After you select your item, you can delete, duplicate, arrange, magic wand, cut out, mirror, or crop it.
Delete
Remove an item from your board. This action can be undone.
Duplicate
Create an exact copy of the item.
Arrange
Tap the Up Arrow to move an item forward. Tap the Back Arrow to push an item backwards.
Magic Wand
Tap the "+" Wand button to remove white from your selected image. Tap the "–" Wand button to add white to your selected image.
Cut Out
Remove any background from your image.
Mirror
Flip your item horizontally.
Crop
Edit the boundaries of your item.


Add to Library
Tap the Add to Library button to add your selected item to your personal library.
Edit Text
If you select text, you can tap the "Aa" button to edit your text.


Edit Swatch
If you select a swatch, you can tap the Swatch Maker button to edit your swatch color, shape, and label.
Step 4. Snap
Toggle Snap on to snap your item's edges to the grid or to other images. Toggle Snap off to move items around freely.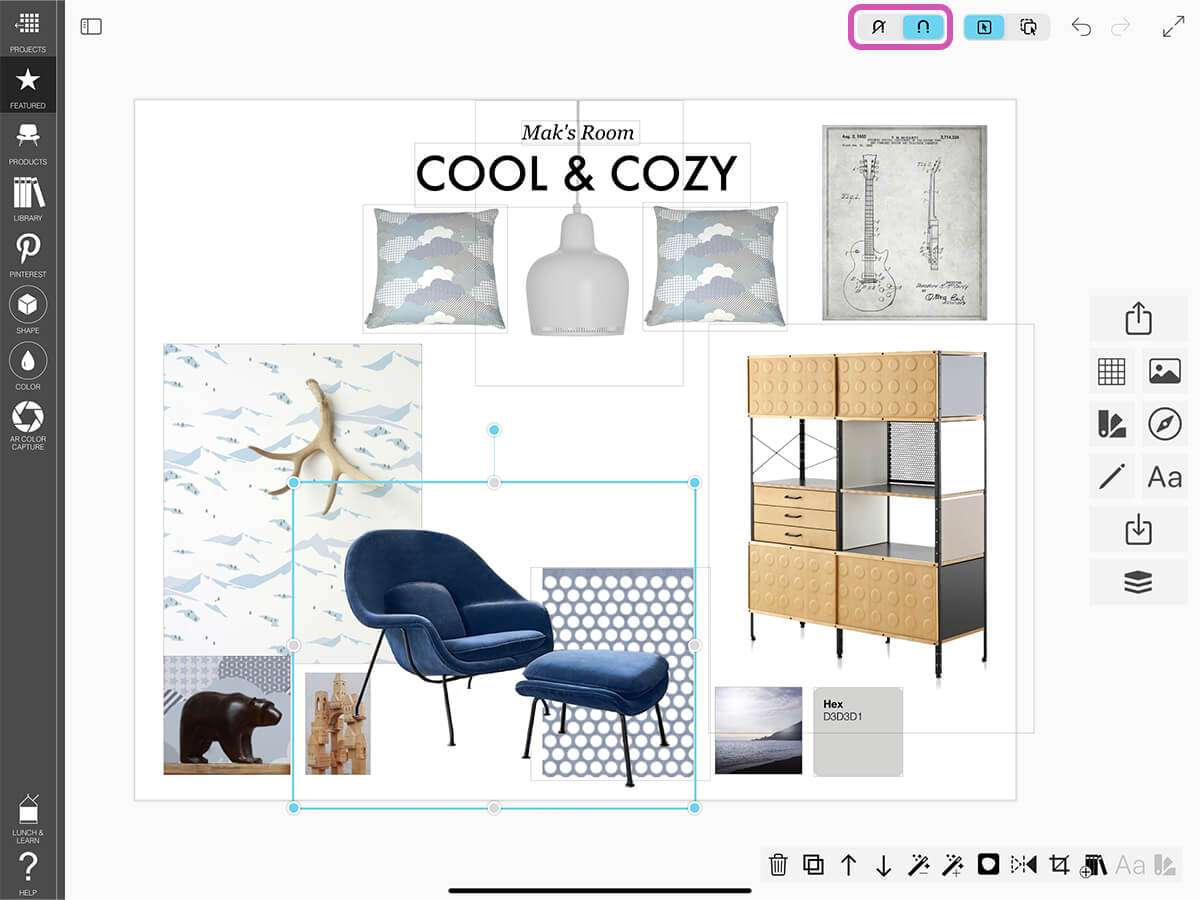 Step 5. Multi-select & Align
To move, transform, delete, duplicate, arrange, or align multiple items at once, toggle Multi-select on. Then you can tap multiple items to select them at once. To align your selected items to the top, bottom, sides, or centers, tap the Align buttons.
Step 6. Confirm Changes
Tap outside of your selected item to confirm your changes and return to the mood board space.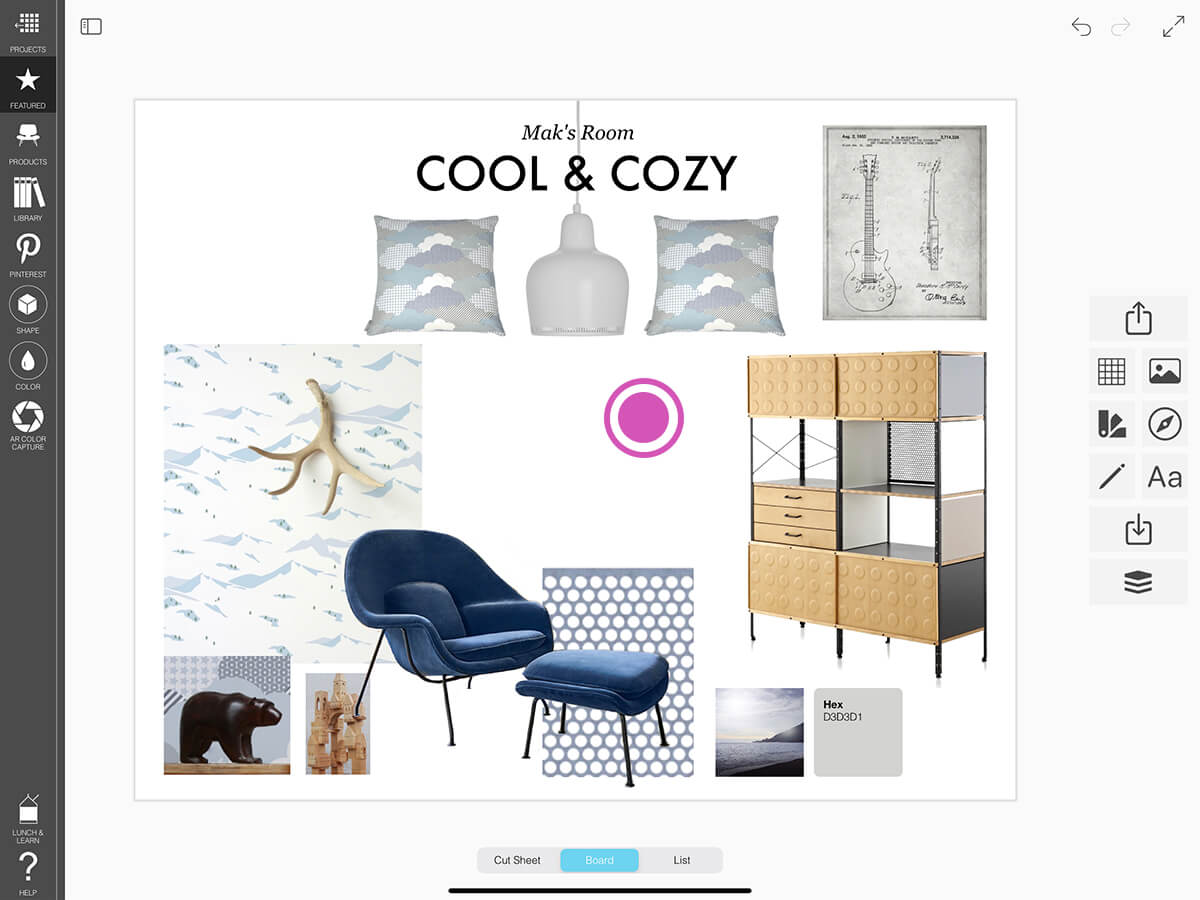 ---
How To Video
Enjoy this how to video highlighting how to use moodboard super tools.
---
Version: 4.0
Why Morpholio Board for Architects and Interior Designers?
Morpholio Apps are not only the best apps for architects, interior designers, decorators and landscape designers, they also now work as a perfect compliment to, and seamlessly with, all of your favorite architectural and interior design software. This includes Autodesk AutoCad, Revit, SketchUp, Rhino, Pinterest, Adobe Photoshop, Shapr3D, UMake and many more. In addition, your Apple iPad, iPhone and Apple Pencil will never be more exciting to use as Morpholio's suite of drawing, design and mood board apps become even more essential in your design process.